Apple's Transition to New Headquarters Should Accelerate as More Occupancy Permits Granted
While some construction remains underway at Apple Park on both the inside and outside, an increasing number of Apple employees will likely transition to the company's new headquarters over the next few months.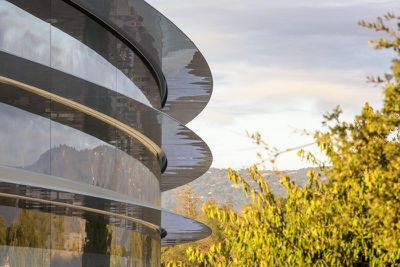 VentureBeat reports that Apple received temporary occupancy permits for five of the 12 sections of the main circular building on the campus in late December. The report adds that Apple is on track to receive temporary occupancy permits for all of the other sections between late January and March at the latest.
The permits should accelerate the move-in process for some 12,000 employees that will eventually work out of Apple Park, with many coming from the company's nearby Infinite Loop campus, both of which are located in Cupertino, California.
Apple employees have generally remained quiet about the move, in line with the company's secretive culture, but a few mentions have surfaced on social media platforms like Twitter and Snapchat since early January. One employee tweeted that Wednesday was his last day at Apple's previous Infinite Loop headquarters.
Last day at the Loop. It's always felt surreal to be in these buildings where so much has happened. Next week starts at the new campus, Apple Park, where new history will be made. — Brian (@littlebluebro) January 25, 2018
Apple had already received temporary occupancy permits last year for certain sections of Apple Park that contain the restaurant and atrium. Permits were also granted for the Apple Park Visitor Center and Steve Jobs Theater, where Apple unveiled the iPhone X and will host its
annual shareholders meeting
next month.
Apple originally said its new headquarters would open last April, but at its September event, chief executive Tim Cook said employees would begin moving in later in the year, beyond some ancillary buildings already in use.
When construction wraps up at Apple Park, the headquarters should be able to receive permanent occupancy permits. For the latest progress update, watch this drone video shared by Duncan Sinfield earlier this month.