Apple today updated its website for investors to note that its 2018 Annual Meeting of the shareholders will take place at the Steve Jobs Theater in Apple Park on February 13, 2018.
The record date for the meeting is December 15, 2017, and Apple plans to publish additional details about the upcoming meeting in the near future when the proxy statement is filed.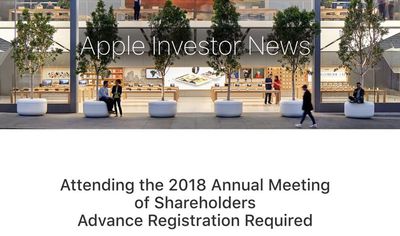 Apple says it expects more shareholders to want to attend than there are seats available, and so advance registration is required using a unique control number that will be issued following the filing of the proxy statement.
Once our proxy statement is filed, the bank, broker, or other organization that holds your Apple shares will be issuing proxy materials to you that will include a unique control number. You'll need that number to register for the meeting at proxyvote.com beginning at 8:00 a.m. Pacific Time on January 22, 2018, and registrations will be accepted on a first-come, first-served basis.

To ensure you receive your proxy materials in a timely way, please make sure that your contact information is current at the organization that holds your shares.
Shareholders can register to attend the meeting at Proxyvote.com starting at 8:00 a.m. Pacific Time on January 22, 2018. Apple plans to accept registrations on a first-come, first-served basis.
Apple earlier this month asked the SEC for permission to skip shareholder proposals involving issues like greenhouse gas emissions, climate change, and human rights. Apple says these topics do not need to be addressed as they are areas that it "routinely reviews" and are not representative of "significant policy issues" requiring a shareholder vote.