Apple Releases iOS 11.2.5 With Support for HomePod and Siri Audio News
Apple today released iOS 11.2.5, the tenth official update to the iOS 11 operating system that first came out in September of 2017. iOS 11.2.5 comes two weeks after the release of iOS 11.2.2, an update that introduced Safari mitigations for the "Spectre" vulnerability impacting Apple's iOS devices.
The iOS 11.2.5 update can be downloaded for free on all eligible devices over-the-air in the Settings app. To access the update, go to Settings --> General --> Software Update.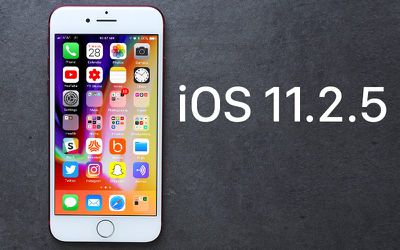 According to Apple's release notes, the iOS 11.2.5 update introduces support for the HomePod, which will be released on Friday, February 9, and it brings fixes for several bugs in CarPlay, Messages, and Mail. The update also includes audio-based podcast news delivered via Siri, which was also officially unveiled in iOS 11.2.2 last week. With the podcast news feature, you can ask Siri to play generic news sourced from NPR, Fox News, The Washington Post, or CNN, but you can also ask for news specific to topics like Sports, Music, and Business.
In Control Center, the iOS 11.2.5 update brings a new layout for audio controls. When accessing the music widget on an iPhone or iPad, when you 3D Touch or press on the icon in the upper right hand side, all available audio playback sources are now listed as separate tiles.
Tapping on one of the audio sources, such as an Apple TV, allows audio to be played on the device and controlled separately from the iPhone. Using this feature, you can listen to music on one device, like the Apple TV, without interfering with audio playing on the iPhone.
iOS 11.2.5 appears to address a bug that allowed a malicious link to freeze the Messages app on iOS devices. As of the sixth beta, the link in question no longer affects the Messages app.
Full release notes for the iOS 11.2.5 update are below:
HomePod support

- Setup and automatically transfer your Apple ID, Apple Music, Siri and Wi-Fi settings to HomePod.

Siri News

- Siri can now read the news, just ask, "Hey Siri, play the news". You can also ask for specific news categories including Sports, Business or Music.

Other improvements and fixes

- Addresses an issue that could cause the Phone app to display incomplete information in the call list
- Fixes an issue that caused Mail notifications from some Exchange accounts to disappear from the Lock screen when unlocking iPhone X with Face ID
- Addresses an issue that could cause Messages conversations to temporarily be listed out of order
- Fixes an issue in CarPlay where Now Playing controls become unresponsive after multiple track changes
- Adds ability for VoiceOver to announce playback destinations and AirPod battery level
Apple is supposed to be releasing an iCloud Messages feature that was pulled ahead of the iOS 11 release, and which many people are eagerly awaiting, but there is no sign of the feature in iOS 11.2.5.
Apple has also promised that new, more extensive details about battery life will be coming in early 2018, but those new tools are also missing from iOS 11.2.5, so we may instead see them in the next iOS update.