New Siri Podcast News Feature Begins Rolling Out in iOS 11.2.2
A new feature that allows Siri to provide audio-based news updates appears to be rolling out to iOS users, allowing iPhone and iPad users to get audio news updates via the Podcasts app when asking Siri for current news info.
The new audio news feature has been previously seen in the iOS 11.2.5 beta, but until recently it was not available on devices running the current version of iOS. In our testing, the new Siri feature is now accessible on devices running iOS 11.2, iOS 11.2.2 (the current version of iOS) and iOS 11.2.5.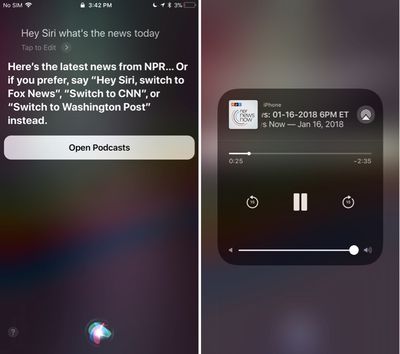 When you ask Siri about the news of the day via Hey Siri or another hands-free method, the personal assistant will provide Podcast news from NPR by default in the United States. You can, however, ask Siri to switch to news from Fox News, CNN, or The Washington Post.
In other countries, local news podcasts will be played instead. In the UK, for example, Siri will offer up audio news from BBC, Sky News, or LBC.
The audio news feature, which appears to have been developed primarily for Apple's upcoming HomePod speaker, is invoked when using "Hey Siri" or asking Siri about the news when using CarPlay or headphones. It's essentially designed for situations where you're not looking at your iPhone or iPad's display.
If you activate Siri using the Side or Home button of a device and ask about the news, Siri will instead provide standard text-based news headlines instead of audio news.
The Siri podcast news feature appears to be available on devices running iOS 11 at least as of today, and in our testing, it is confirmed to be working in the United States and the UK.