Apple Launches 'Apple Music for Artists' Analytics Dashboard
Apple is debuting "Apple Music for Artists," an analytics dashboard aimed specifically at musicians. The new feature, which was outlined by Billboard, is meant to provide artists and bands with insight into the listening and buying habits of their fans.
The dashboard home page offers up an artist's current number of plays, spins, song purchases, and album purchases, with built-in tools able to provide data dating back to June of 2015, which is when Apple Music first launched.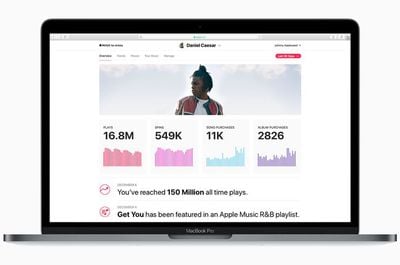 An Insights panel available through the dashboard highlights milestones like all time number of plays, purchases of specific songs, and cumulative purchases, while a global map is designed to allow musicians to click on any of the 115 countries where Apple Music/iTunes is available to see purchase history.
Data for individual cities is included, such as top songs in each city, with further demographic breakdowns available, and another feature lists all of the Apple-curated playlists where an artist's songs appear.
Apple's aim with Apple Music for Artists is to provide more information to independent acts who might not otherwise have access to detailed analytics. Canadian R&B singer Daniel Caesar told Billboard that Apple's analytics dashboard gives smaller artists the tools they need to compete with bigger acts.
"As a truly independent artist with a small team, music analytics is something we can't do without. We don't have the luxury of deep major label market research to rely on to help us make important decisions like where to perform and how to advertise the things that we make. Apple's analytics tool helps to level the playing field for artists like myself."
A few thousand artists have been invited to join Apple Music for Artists as of today as part of a beta test, and later, the feature will be expanded to all artists that have content on the iTunes and Apple Music platforms.