Apple Hires a Few Dozen Employees From Silicon Valley Data Science Startup
Apple has hired several data scientists from Silicon Valley Data Science, a consulting firm that offers data engineering and data science services, reports Bloomberg.
A few dozen employees from Silicon Valley Data Science joined Apple in December and January to help the company better use its data to improve its advertising efforts. According to the Silicon Valley Data Science website, the startup helped businesses improve customer retention, increase engagement, improve conversion rates, develop new revenue-generating data products, streamline operations, and more.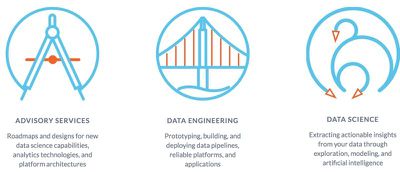 At Apple, the team will work on ad-related analytics to bolster Apple's advertising efforts. One area of focus could be better optimizing App Store ads.
Founder and CEO of Silicon Valley Data Science Sanjay Mathur is one of the employees that has taken a position as Apple. His LinkedIn profile now says that he leads "strategy and analytics initiatives for a group at Apple."
Several other LinkedIn profiles from former Silicon Valley Data Science employees now list data scientist positions at Apple. The company's former CTO, for example, now works on "Algorithms," while the former Head of Data Science is now Apple's "Principal Data Scientist."
While the Silicon Valley Data Science website is still up, the company shut down in December and its services are no longer offered.