Apple and Other Companies Fear 'Looming End' of H-1B Work Visa Spousal Protection Program
Apple, Google, Facebook, Microsoft, and other technology companies have sent a message to the Trump administration through various Washington, D.C. lobbying groups, urging President Trump to keep protecting spouses of immigrants who work in the U.S. with H-1B visas. The companies reportedly fear a "looming end" to the program that protects these spouses and allows them to work in the U.S., as it could cause "immense trouble" for many of their workers and potentially lead to large swaths of H-1B employees having to "reconsider working for U.S. companies at all" (via Recode).
The spousal work permit program began in 2015 under the Obama administration, allowing spouses of high-skilled immigrants to be granted work authorizations while in the process of seeking lawful permanent resident status. The Trump administration has worked throughout 2017 to fundamentally reevaluate the program, and in November the Department of Homeland Security noted imminent plans to "propose to rescind" the final rule and remove H-4 dependent spouses "from the class of aliens eligible for employment authorization."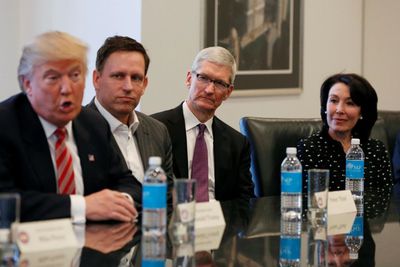 Now, a coalition of tech companies have responded with a statement, noting that spouses are "eager to work" to support their families. Their statement also describes fear of an "increased risk" of losing long-term employees.
"We represent employers who are committed to growing the U.S. economy and creating jobs for American workers. However, we cannot achieve these goals unless companies can recruit and retain the most qualified employees," wrote a slew of companies, all speaking through their Washington, D.C.-based lobbying groups, including the Information Technology Industry Council.

In the Thursday letter, ITI, the U.S. Chamber and other organizations stressed that spouses are "eager to work in order to support their families, contribute to their communities by paying taxes, and utilize their skills to help the U.S. economy grow."

"Employers would also face an increased risk that their valued, long-term employees will choose to leave their companies for other employment opportunities in countries that allow these workers and their families to raise their standard of living," the business groups continued.
Tech companies like Apple would be the hardest hit by such sweeping changes to work visa policies since it employs many workers with H-1B visas, whose spouses potentially also benefit from the program. Nearly one year ago, Apple was also affected by the drafting of an executive order by President Trump, which stated that the country's policy on immigration should not give priority to foreign workers and should instead prioritize and protect American workers.
Following the draft proposal, the Trump administration followed through and rolled out a collection of policy shifts that planned out a roadmap to better serve American workers' current and future jobs. Apple and other tech companies were affected out of the gate as the first change came from the U.S. Citizenship and Immigration Services agency, which "made it harder" for such companies to bring foreign workers to the country using the H-1B work visa.
Note: Due to the political nature of the discussion regarding this topic, the discussion thread is located in our Politics, Religion, Social Issues forum. All forum members and site visitors are welcome to read and follow the thread, but posting is limited to forum members with at least 100 posts.