Apple's Ability to Hire Foreign Workers May Be Impacted by Trump Overhaul of Work-Visa Programs
United States President Donald Trump and his administration have drafted an executive order that intends to overhaul the work-visa programs that various technology companies -- including Apple -- rely on to hire tens of thousands of employees each year.
According to a draft of the order acquired by Bloomberg, affected visa programs include L-1, E-2, and B1. Directly affecting tech companies is H-1B, which lets companies like Apple hire appropriately skilled workers for specific jobs when there is a dearth of local talent available.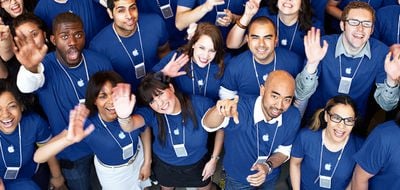 Falling in line with Trump's "America first" intentions, which previously ignited reports of Apple turning to U.S.-based iPhone manufacturing, the order explains that the country's policy on immigration should not give priority to foreign workers. Its intent aims to prioritize and protect American workers, as well as their current and future jobs.

"Our country's immigration policies should be designed and implemented to serve, first and foremost, the U.S. national interest," the draft proposal reads, according to a copy reviewed by Bloomberg. "Visa programs for foreign workers … should be administered in a manner that protects the civil rights of American workers and current lawful residents, and that prioritizes the protection of American workers -- our forgotten working people -- and the jobs they hold."
Although some companies use the visa programs to find high-skilled talent overseas, Bloomberg notes that allegations in recent years have claimed that the system can be abused to simply hire workers at a cheaper rate "to fill jobs that otherwise may go to Americans." Outsourced workers in India are said to be the main targets of the H-1B visa, filling in the technology departments of large corporations "with largely imported staff."
Since the executive order is only in the drafting stages, it's not yet clear how much force or backing it would receive if made official. According to Ron Hira, an associate professor at Howard University, companies who potentially use the work-visa programs to hire cheap labor will be affected most, likely ending up having to pay more to their employees if the order is signed. Companies using the programs to legally hire skilled workers may be able to find alternative visas elsewhere, but the intent to make the process more difficult is clear.

"If firms are using the program for cheap labor, I think it will affect them and they will have to pay workers more," said Ron Hira, an associate professor at Howard University. "If tech firms are using the program for specialized labor, they may find there are more visas available."
The current legislation caps workers who can enter the U.S. each year at 85,000, including educated workers with college degrees. According to the most recent data available, workers with H-1B visas at companies like Apple, Google, and Microsoft are paid more than $100,000 per year, while outsourcing firms reportedly intent on hiring for quantity over quality are said to pay workers less than $70,000 annually.
Trump's order aims to bring transparency to these issues, with the intent to publish reports "with basic statistics on who uses the immigration programs within one month of the end of the government's fiscal year."
Today's news comes a few days after Apple CEO Tim Cook responded to the immigration executive order signed by Trump on Friday, which left refugees and immigrants stranded at airports around the country over the weekend. In a letter to employees, Cook said that Trump's order is "not a policy we support," and that the company has "reached out to the White House to explain the negative effect on our coworkers and our company."
Note: Due to the political nature of the discussion regarding this topic, the discussion thread is located in our Politics, Religion, Social Issues forum. All forum members and site visitors are welcome to read and follow the thread, but posting is limited to forum members with at least 100 posts.