iPhone suppliers are said to be preparing for low orders from Apple in the first quarter of 2018 because of a combination of seasonal factors and anxiety over reports of slower-than-expected sales of Apple's latest smartphone line-up.
According to DigiTimes' sources in the supply chain, several component suppliers are bracing themselves for low order visibility for the full range of iPhone 8, iPhone 8 Plus, and iPhone X models.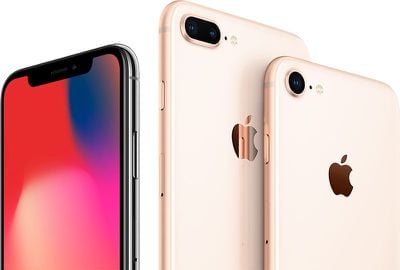 Component orders for iPhone devices will come 15-30% less than expected for the first quarter due mostly to seasonal factors, but some sources argued that the slower-than-expected sales of iPhone 8 and iPhone 8 Plus have dragged down the momentum for the iPhone X.
The report highlights signs of declining order visibility for Apple's flagship phones that appeared as early as the fourth quarter of 2017, which is said to have led some suppliers to plan for temporary halts in production during the month of February.
Another influencing factor on the decision is the weeklong Lunar New Year holidays, which significantly reduce capacity utilization rates, according to the same sources.
Several upstream suppliers are reportedly cognizant of the need to control their inventory levels to offset the possible impact of low orders, including those for memory chips, camera modules, 3D sensing modules, PCBs and IC backend service firms.
Reports remain conflicted about actual iPhone X sales since the smartphone was launched in September. Recent OS data from Kantar Worldpanel indicated "stellar" performance of the iPhone X in multiple markets around the world during November, amid an overall "mixed performance" for iOS devices from September to November 2017.
However, in December 2017, sources in the semiconductor packaging and testing service industry claimed that pre-orders for the iPhone X were not as strong as expected in some markets. Numerous reports in recent weeks have weighed in on the topic of sales, with many analysts predicting weakened demand in Q1 2018 now that early adopters have received their iPhone X.