iPhone X Sales Were 'Stellar' in Several Countries During First Month of Availability
Kantar Worldpanel's newest smartphone OS data details the "stellar" performance of the iPhone X in multiple markets around the world during November, amid an overall "mixed performance" for iOS devices from September to November 2017. While Apple's piece of the smartphone ecosystem fell in Great Britain, the United States, Japan, and Australia, the company saw ongoing growth in urban China during this period.
Specifically, iOS dropped 3.8 percentage points in the U.S. when compared to the year-ago period, resulting in a total smartphone OS sales share of 39.8 percent. In the U.S., Android grew 4 percentage points to capture 59.4 percent of the smartphone OS market.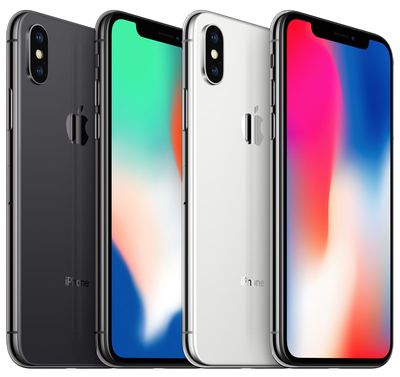 Kantar noted that in the U.S. the iPhone X was outsold by the iPhone 8 and 8 Plus in November, coming in third and helping Apple capture the three top spots for the best-selling smartphone models that month. The researchers said that Apple "easily" beat Samsung's Galaxy S8, which landed at sixth place.
In China, Kantar said that iOS "continues to impress" with a growth of 4.6 percentage points from the previous year and sitting at 24.3 percent of the smartphone OS market in the country. At the same time, Android fell 4.6 percentage points, but it still owns 75.5 percent of the smartphone OS share in China.


Kantar Worldpanel global director Dominic Sunnebo explained that Apple's growth in China during this period was helped by "staggering" demand for the iPhone X, despite its high price tag, and came from users who were mostly switching sides from rival smartphone makers.

"Apple was riding on the back of some momentum before the iPhone X release but demand for latest model in urban China has been staggering given its price point.

"Apple is now back on form – the iPhone X was the top selling model in urban China in November, with a market share of 6.0%. Unlike in Europe and the US, where the vast majority of new early iPhone X sales came from existing Apple smartphone owners, in urban China there are significant numbers of Huawei, Xiaomi and Samsung customers switching to the new iPhone models, which they deem a cut above the rest."
Despite an overall percentage point loss for Apple in Great Britain from September to November (down 4.2 points), Kantar said that for the month of November only, "Apple achieved its highest share in more than three years." The company reached 49.4 percent of the market in November thanks to iPhone X demand, beating out Samsung and "easily regaining" the number one sales spot for the month.
For most markets, Kantar wondered how long Apple will be able to keep its sales momentum going with the smartphone's high price tag. Numerous reports in recent weeks have discussed the same topic, with analysts predicting "weakened demand" in Q1 2018 now that early adopters have received their iPhone X.