Apple Will Replace the Battery in Your iPhone 6 or Later Even if It Passes a Genius Bar Diagnostic Test
Last week, Apple reduced the price of out-of-warranty iPhone battery replacements from $79 to $29, following a wave of controversy over power management features in older iPhones. In a note to customers, Apple said its new policy applied to "anyone with an iPhone 6 or later whose battery needs to be replaced", but failed to specify if this eligibility criteria was dependent on whether a given iPhone failed an official Genius Bar diagnostic test.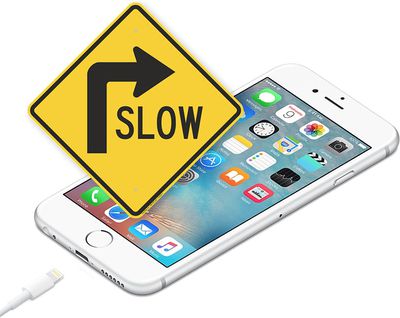 This morning, French tech blog iGeneration reported that an internal Apple Store memo has been circulated which states that if a customer asks for a battery replacement on an iPhone 6 or later, then the Genius Bar should allow it, even if their phone passes Apple's own diagnostic test.
Apple has since independently confirmed to MacRumors that it will agree to replace an eligible battery for a $29 fee, regardless of whether an official diagnostic test shows that it is still able to retain less than 80 percent of its original capacity. The concession appears to have been made to mollify the anger of customers stoked by headlines suggesting that Apple artificially slows down older iPhones to drive customers to upgrade to newer models.
Anecdotal reports also suggest that customers who paid $79 to have their battery replaced before the new pricing came into effect on Saturday, December 30, will receive a refund from Apple upon request. Please let us know of your own experiences in the comments below.
Apple last week was forced to apologize over a lack of transparency regarding its process of dynamically managing the peak performance of some older iPhone models with degraded batteries to prevent unexpected shutdowns. When iOS 10.2.1 was released in February, Apple vaguely referred to "improvements" it had made to reduce occurrences of unexpected shutdowns. It only chose to explain that the changes it made may result in temporary slowdowns on some older iPhone models with degraded batteries after controversy recently reignited.
Apple can run a diagnostic on your phone's battery remotely – you don't need to visit an Apple Store. To initiate the battery diagnostic/replacement process, contact Apple Support by phone, online chat, email, or Twitter. Alternatively, you can schedule a Genius Bar appointment at an Apple Store with the Apple Support app. You can also inquire about a battery replacement with select Apple Authorized Service Providers.