Yesterday, Apple
responded
to customer complaints about how the company handles power management features in older iPhone models and decided to reduce the price for out-of-warranty iPhone battery replacements from $79 to $29, beginning in late January and lasting through December 2018. In response, iFixit has
decided
to match that price point and lower the cost of every
DIY iPhone battery fix kit
to $29 or less.
iFixit's kits include every tool that you need to open up an iPhone and swap out an old battery for a new one, and includes coverage for the iPhone 7, 7 Plus, 6s, 6s Plus, 6, 6 Plus, SE, 5, 5c, 5s, and 4s. Apple's lowered price covers "anyone with an iPhone 6 or later whose battery needs to be replaced," so iFixit's fix kits also include coverage for older iPhone models excluded from Apple's new program.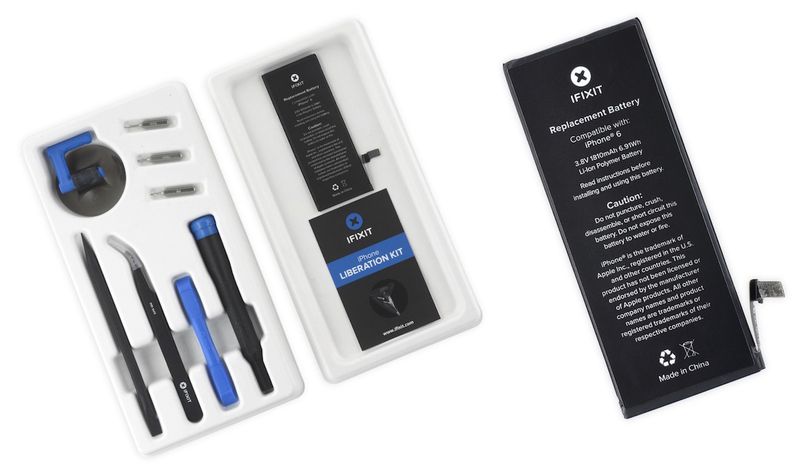 The difference with iFixit is that you'll have to upgrade and swap out the battery on your own -- unlike paying Apple to do it for you -- but iFixit explained a few benefits that its DIY fix kits offer.
When we ask our customers why they do the repair themselves rather than take it to Apple, they give us a few reasons:

- Convenience. No need to drive anywhere or wait in line; replace your battery from your kitchen.
- Availability. Many people don't live near an Apple Store, and don't have another option for same-day repair.
- Privacy. Some people aren't comfortable giving their device to someone else.
- Fun. It's interesting to open up your stuff, find out how it works, and make it function better.
iFixit mentioned that over the last week it has noticed a 3x increase in customers using the site to replace their batteries, and in the last month just over 170,000 people specifically used the iFixit iPhone 6 battery install guide. For all iPhone models, nearly 510,000 people learned how to replace their device's battery in the last month.