Apple Watch Series 3 Costs More Than $10/Month on Most Carriers, Can't Be Reactivated Without Fees
When the Apple Watch Series 3 first launched, carriers in the United States and other countries where the LTE version of the device is available offered three free months of service and waived activation fees.
That fee-free grace period is coming to an end, and customers are getting their first bills that include the $10 per month service charge.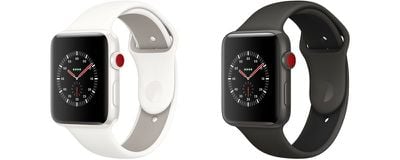 If you have an Apple Watch Series 3 with LTE functionality, you've probably already learned that $10 is not all it's going to cost per month. On carriers like AT&T and Verizon, there are additional service charges and fees, which means it's not $10 per month for an Apple Watch, it's more like $12-$14.
On Verizon in California, for example, there's an additional $1.55 in fees on top of the $10 per month charge.


On AT&T in North Carolina, fees and surcharges add an additional $4.39 to the $10 per month charge, bringing the total to almost $15 per month for an Apple Watch. In some states, these fees on Verizon and AT&T are even higher.


If you're planning to avoid fees by deactivating service and activating again when it's needed, that may not be the best plan of action. As Macworld's Michael Simon points out, line activation fees that come with reactivation can be hefty.
Though the Apple Watch Series 3 is linked to the cellular number of the iPhone on a given carrier, it requires adding an additional line to a cellular service account. When you cancel and re-add a line, there's an activation fee involved. On Verizon, for example, if you deactivate the Apple Watch Series 3 and then want to activate it again at a later date, there's a $25 charge. Suspending service doesn't work, as it requires a $10/month fee, aside from a one-time 30 day free suspension on Verizon. From Macworld:
Because Apple Watch uses NumberShare on Verizon, it's not considered a month-to-month or prepaid device, so it's not so easy to skip a month of service. According to the Verizon representative I spoke to, I have two options:

- Suspend my Apple Watch service for up to 90 days at a time. This will cost me $10 a month, so that's not really an option.

- De-activate the watch completely. That will wipe it from my account and bill. However, I will need to pay a $25 activation fee once I decide to reinstate service. That's a recurring change. That means Verizon will essentially charge me for two and half months service every time I turn it off and on again.
Like Verizon, AT&T charges $25, while Sprint charges $30. T-Mobile no longer charges activation fees, so it may be more affordable to cancel and reinstate service if you're a T-Mobile subscriber.
On AT&T and Verizon, though, that $25 re-activation fee is the cost of two months of service, or close to it, when taxes and fees are included, meaning it's not really worthwhile to start and stop service if you're going to do it more than once or twice a year.
Macworld was also told that if he stopped and started service he could run into problems when attempting to reactivate the watch, but it's not entirely clear why.
With the three-month grace period, most Apple Watch owners have likely learned whether or not the $10-$15 per month fees are worth the freedom of an always-on wrist-worn cellular connection. Neither Apple nor the carriers in the United States were fully upfront about the additional service fees and taxes and the hassle involved with deactivation/reactivation, though, so there are bound to be some users who will feel tricked when the first full Series 3 bill comes in.