If an iMac Pro becomes unresponsive and requires restoring, like if there's a power failure during a software update, there are a special set of instructions iMac Pro users must follow, which require a secondary Mac.
As outlined in an Apple Configurator 2 support page, an iMac Pro restore requires a second Mac running macOS High Sierra with internet access and Apple Configurator 2.6 or later installed.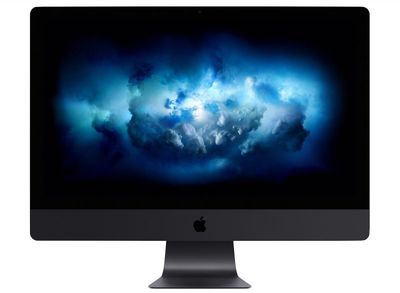 The iMac Pro will need to be connected to the secondary Mac with a Thunderbolt or USB-A or USB-C to USB-C cable. From there, iMac Pro users will need to plug the cable into the Thunderbolt port closest to the Ethernet port and then connect the iMac Pro to power while holding the power button.
Apple Configurator must be used on the second Mac to select the iBridge device and then restore. After the restoration process, the iMac Pro will reboot, making it accessible again.
This restore process is similar to what must be done for an iPhone or iPad that is unresponsive, and it is necessary due to the extra security afforded by the Apple-designed T2 chip.
The iMac Pro's T2 chip is a second generation version of the T1 chip that powers the Touch Bar in the MacBook Pro. The T2 chip integrates the system management controller, image signal processor for the camera, audio controller, SSD controller, a Secure Enclave, and a hardware encryption engine.
Among other improvements, the T2 chip encrypts all of the data on the iMac Pro's SSD using dedicated AES hardware that doesn't impact the performance of the SSD. It also ensures a secure boot up process, making sure no unapproved software loads at startup.
(Thanks Łukasz!)