T-Mobile Announces Internet TV Service Coming in 2018
T-Mobile today announced that it will launch its own over-the-top TV service in 2018, which will be fueled in part through the acquisition of Layer3 TV. Details about the service are scarce, but T-Mobile CEO John Legere said that it will continue the company's theme of being a "disruptive" solution to its rivals, this time in both the internet TV and paid cable markets.
Layer3 TV will help T-Mobile build the service, which is said to provide solutions to lengthy contracts, increasing monthly bill costs, confusing bundles, outdated user interfaces, and more. T-Mobile will fold in Layer3 TV's current services and expand it to a wider audience. Right now this includes select TV channels, streaming online video content, and social media, but is only available in five U.S. cities.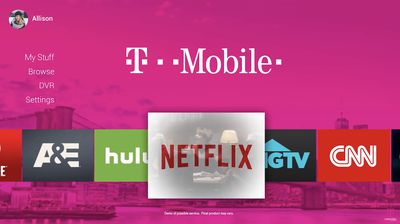 "People love their TV, but they hate their TV providers. And worse, they have no real choice but to simply take it – the crappy customer service, clunky technology and outrageous bills loaded with fees! That's where we come in. We're gonna fix the pain points and bring real choice to consumers across the country," said John Legere, president and CEO of T-Mobile. "It only makes sense for the Un-carrier to do to TV what we're doing to wireless: change it for good! Personally, I can't wait to start fighting for consumers here!"
T-Mobile's service will enter a busy streaming TV market, which currently includes DirecTV Now, Hulu with Live TV, PlayStation Vue, Sling TV, YouTube TV, and many more. Companies are even beginning to offer internet streaming bundles that focus on catering to specific audiences, like Philo, which is aimed at viewers not interested in sports channels and offers much cheaper monthly costs.
T-Mobile and Sprint almost merged recently, but the companies
called off the merger
in November because they were unable to find "mutually agreeable terms." At the time, T-Mobile CEO John Legere said that while a deal with Sprint was a "compelling" idea, it would have needed to offer "significant benefits" for both consumers and shareholders.