Alongside the iOS 11.2.5 beta that was seeded to developers this afternoon, Apple released new firmware for the HomePod.
The new firmware is not available through the Developer portal like a standard beta software update, but it will be downloadable by testers who have a HomePod. The update is also listed on third-party software sites, making it available for download by the public.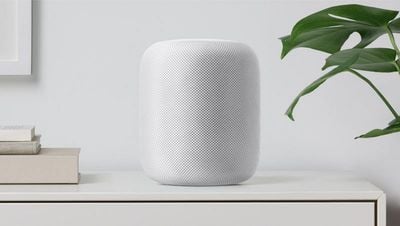 HomePod devices are currently in the hands of Apple employees who are testing the smart speaker to iron out bugs before it becomes available for purchase in early 2018.
Apple previously released publicly available HomePod firmware in July, unwittingly leaking many secrets about the iPhone X. The HomePod firmware referenced the unreleased iPhone and confirmed its design and several features like Face ID facial recognition.
Additional HomePod firmware was released in October, but that update, like this one, is not as notable because there are no unreleased iOS devices coming in the immediate future and thus there's nothing to spoil. It's possible additional HomePod features could be discovered via the firmware update, however.
HomePod is Apple's Siri-based smart speaker that focuses heavily on high-quality sound. It incorporates a 7 tweeter array, an Apple-designed 4-inch upward-facing woofer, and an A8 chip to power features like spatial awareness.
Apple originally planned to release the HomePod in December, but in November, the HomePod launch was delayed until early 2018.