Apple and Amazon Confirm Amazon Prime Video on tvOS Supports 4K HDR and 'Up Next' in TV App
Following the early morning launch of the long-awaited Amazon Prime Video tvOS app, both Apple and Amazon have now posted press releases about the launch, each confirming a few details about Prime Video on Apple TV.
Firstly, Apple's PR officially confirms that Amazon Prime Video does support Apple's centralized TV app. This means that users can use Siri Universal Search to find Amazon Prime Video content, and add it to their "Up Next" queue of shows and movies. Prime Video content will then appear within the TV app and users can immediately jump into their shows without needing to navigate to the Amazon app itself.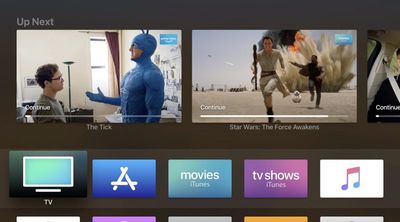 Some MacRumors staff members were able to get this working this morning, but it appears that Siri Universal Search and playback of Amazon shows within the TV app are not entirely rolled out yet, so you may have to wait a little longer to see these features functional on your own Apple TV. In total, Apple said that Prime Video brings the amount of TV episodes and movies that Siri can search on Apple TV to 1.3 million.

"Amazon Prime Video is one of the most eagerly anticipated apps to come to Apple TV, so we're excited to bring all of that great content to customers," said Eddy Cue, Apple's senior vice president of Internet Software and Services.
Importantly, Apple also mentioned that Prime Video is integrated into the TV app "where available," so users outside of the United States, Australia, Canada, Norway, and Sweden will still not be able to use the TV app.


Apple also confirmed that Prime Video for Apple TV "further expands the library of TV shows and movies available in 4K HDR on Apple TV 4K," so owners of the latest Apple TV will gain access to Amazon's 4K content with the new app.

"There is nothing that excites us more than delighting our customers, and we are thrilled for them to stream Prime Video on Apple TV," said Mark Eamer, Vice President of Prime Video. "The app arrives just in time for the highly anticipated new season of The Grand Tour, which launches on December 8th, and Prime Video members streaming on the Apple TV 4K will have the exceptional viewing experience of 4K HDR."
Apple went on to discuss the newly added Live Sports section of the TV app, as well as further touting the "hundreds of 4K HDR titles" that users can discover on iTunes. Additionally, the company pointed out that tvOS 11.2 now allows Apple TV 4K users to choose between having their video playback converted to the best format their TV can support, or outputting the video in its original frame rate and dynamic range. Check out more information on the tvOS 11.2 update right here.