Consumer Reports Ranks iPhone X Below iPhone 8 Because of Durability and Battery Life
Consumer Reports today shared its final iPhone X testing results, and while the site has given the iPhone X a recommendation, Apple's new flagship smartphone has been ranked below the iPhone 8 and the iPhone 8 Plus in the Consumer Reports recommended list.
The iPhone X did make the Consumer Reports list of top 10 smartphones in the number 9 slot, but the site says it did not beat out the iPhone 8 or the iPhone 8 Plus because of its poor performance on a durability test. Both the iPhone 8 and the iPhone 8 Plus better survived a tumble test for emulating real-world drops and fumbles of about 2.5 feet that can result in device damage, despite the fact that all three devices have glass bodies.
After 50-100 tumbles, one iPhone X model suffered serious body damage, while two others had screen defects. The iPhone 8 and 8 Plus ended up with just a few scrapes after the test. Front displays for the iPhone X, 8, and 8 Plus all came away unscathed, and the iPhone X did well on scratch tests and water resistance tests.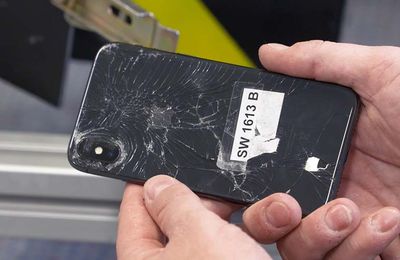 "If not for the damage in that durability test, the iPhone X would have come in ahead of the iPhone 8 and 8 Plus," says Richard Fisco, head of smartphone testing at CR.
Consumer Reports also had some complaints about the iPhone X battery life, which does not last as long as the battery in Samsung phones like the Galaxy S8. The iPhone X lasted 19.5 hours in the Consumer Reports battery test, compared to 26 hours for the Samsung Galaxy S8 and 21 hours for the iPhone 8 Plus.
The iPhone X didn't fare well on durability or battery tests, but it did earn the highest camera score out of all the smartphones tested by Consumer Reports. The site also listed the OLED display and the Face ID facial recognition system as iPhone X strengths.
The rear camera on the iPhone X is among the best we've ever seen. In fact, if you combine the performance scores for stills and video, this is the highest-rated smartphone camera Consumer Reports has tested.
Overall, Consumer Reports continues to rank the Samsung Galaxy S8 and the Samsung Galaxy S8+ as its top two recommended smartphones, mainly due to superior battery life, followed by the iPhone 8 Plus and the iPhone 8 in spots number three and four. At number nine, the iPhone X is at the bottom of the list, but only a few points separate all of the devices tested.