Apple Sold Fewer iPads Year Over Year for 13th Straight Quarter as Tablet Market Shrinks to Five-Year Low
The worldwide tablet market declined for a tenth straight quarter on a year-over-year basis last quarter, according to IDC. The market research firm estimates tablet shipments totaled only 36.2 million in the first quarter, the fewest since the third quarter of 2012, establishing a nearly five year low.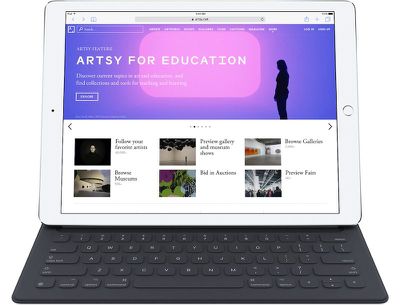 While the iPad remains the world's most popular tablet, it hasn't escaped the decline. Earlier this week, Apple reported that it sold 8.9 million iPads in the quarter, down from 10.2 million iPads in the year-ago quarter, marking the 13th consecutive quarter that it has sold fewer iPads on a year-over-year unit basis.
"Apple's results show that it is not immune to the changing dynamics of industry and consumer demand, part of which is due to the ongoing success of its other product lines," said IDC in a press release today.
Despite costlier iPad Pro models driving up prices, which helped Apple end a nine-quarter slide in iPad revenue less than a year ago, the company's tablet revenue has turned to the negative again. Apple reported earnings of $3.8 billion from iPads last quarter, down from $4.4 billion in the year-ago quarter.
Following tremendous growth in the tablet market in the first three years after the original iPad launched in 2010, IDC believes that consumers have become less eager to upgrade their tablets, more dependant on smartphones, and increasingly disinterested in purchasing tablets altogether.
"The rate at which the tablet market grew from 2010 to 2013 was unlike many other consumer-oriented device markets we've seen before," said Ryan Reith, program vice president with IDC. "However, it appears for many reasons consumers became less eager to refresh these devices, or in some instances purchase them at all. We continue to believe the leading driver for this was the increased dependency on smartphones, along with rather minimal technology and form factor progression."
Apple recorded an estimated 24.5 percent share of the worldwide tablet market in the first quarter, meaning that nearly one in every four tablets sold during the first three months of the year was an iPad. Samsung trailed in second with an estimated 6 million shipments for 16.5 percent market share.


Chinese company Huawei was the only tablet maker to experience growth in the quarter, shipping an estimated 2.7 million tablets, up 31.7 percent from a year ago. Amazon and Lenovo rounded off the top five vendors with an estimated 2.2 million and 2.1 million tablet shipments respectively in the quarter.
Beyond the iPad sales numbers, which are official, it's important to acknowledge that these are estimated figures, and shipments within distribution channels do not necessarily reflect sales to customers.