The U.K. government announced in Wednesday's annual budget that it plans to clamp down on tax avoidance by increasing the tax it collects from online giants such as Apple and Amazon.
In his Treasury speech to the Commons, Chancellor Philip Hammond said income tax would be charged on royalties relating to U.K. sales, even when they are paid to a low-tax jurisdiction and would not normally be taxed in the UK under current rules.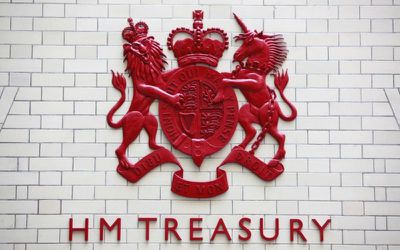 The new rules are due to come into effect from April next year, and estimates suggest they will raise approximately 800 million pounds ($1.07 billion) in extra tax over the next five years. However, Hammond admitted they would only go some way to balancing out the taxation treatment of digital firms, and that more would have to be done to tackle tax avoidance.

Multinational digital businesses pay billions of pounds in royalties to jurisdictions where they are not taxed and some of those relate to UK sales.

This does not solve the problem, but it does send a signal of our determination and we will continue work in the international arena to find a sustainable and fair long-term solution that properly taxes the digital businesses that operate in our cyberspace.
Apple recently came in for criticism when the so-called Paradise Papers revealed that the company sidestepped a 2013 crackdown on its controversial Irish tax structure by moving the majority of its offshore cash holdings to the small island of Jersey, a self-governed territory with loose ties to the United Kingdom.
The papers showed that Apple's two key Irish subsidiaries were managed from the Jersey offices of offshore tax law firm Appleby from 2015 until early 2016. Apple reportedly chose Jersey after exploring several potential tax havens, such as Bermuda and the Cayman Islands.
Apple apparently turned to Jersey after European officials began to crack down on the so-called "Double Irish" tax structure it had exploited. The loophole allows for multinational corporations to funnel revenue through an Irish subsidiary, which in turn sends that money to another Irish subsidiary that has residency in a tax haven. The practice has enabled Apple to save billions of dollars in taxes globally.
Apple responded to the revelations contained in the Paradise Papers by saying that it made regulators in the U.S. and Ireland, and the European Commission, aware about the reorganization of its Irish subsidiaries, and added that the changes haven't reduced its tax bill.
Last year, the European Commission ordered Ireland to collect $14.5 billion in back taxes from Apple, after it concluded that the country's tax agreements with the tech giant represented "illegal state aid". Both Apple and the Irish government are currently appealing the ruling.
Apple has repeatedly highlighted its position as the largest taxpayer in the world and reiterated the fact that it holds overseas cash because that's where the majority of its products are sold. Apple CEO Tim Cook has said that Apple is willing to repatriate some of its offshore cash holdings into the U.S., but he also recently said that tax reform is "sorely needed" first.
Note: Due to the political nature of the discussion regarding this topic, the discussion thread is located in our Politics, Religion, Social Issues forum. All forum members and site visitors are welcome to read and follow the thread, but posting is limited to forum members with at least 100 posts.