Apple CEO Tim Cook Talks Russian Election Interference, Fake News and Tax Reform in Nightly News Interview
Apple CEO Tim Cook sat down with NBC's Lester Holt on tonight's NBC Nightly News broadcast, where he spoke about Russian interference in the 2016 presidential election, the need for tax reform in the United States, and more.
As was shared in a clip of the interview earlier today, Cook commented on Russia's use of social media to interfere with the 2016 election and the congressional hearings executives from Facebook, Twitter, and Google have been attending to discuss the role Russia might have played. Cook said he believes the social networks in question have been learning "along the way a lot" and that fake news is a major issue.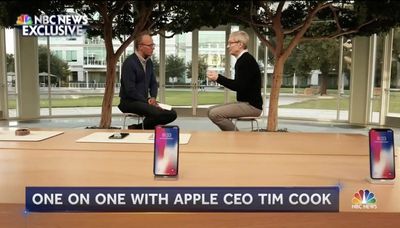 I think they learned along the way a lot. And you know, it's best to ask them if they should have projected it or not. I don't believe that the big issue are ads from foreign government. I believe that's like .1 percent of the issue.

The bigger issue is that some of these tools are used to divide people, to manipulate people, to get fake news to people in broad numbers, and so, to influence their thinking. And this, to me, is the No. 1 through 10 issue.
Cook went on to say that we'll likely learn a lot more in the hearings in regard to the particulars of what went on, and he said companies have a responsibility to make sure technology is "good." "I do think that technology itself doesn't want to be good," he said. "It doesn't want to be anything. It's up to the creator of the technology and the user of the technology to make it good."
Cook also spoke on tax reform. Corporate tax rates, he says, "should have been fixed years ago." "Let's get it done now," he added.

I believe that tax reform is sorely needed in this country. We don't focus on the individual side, but for corporations, we think we have a pretty deep perspective on this. The biggest issue with corporations in this country is that if you earn money outside of the United States, which most companies increasingly will, the only way that you can bring it into the US and invest is if you pay 40 percent. And this is kind of a crazy thing to do. So what do people do? They don't bring it to the United States.
During the interview, which took place on Apple's campus, Cook showed Holt an iPhone X and explained Face ID features and security, topics Apple has covered multiple times in past executive interviews and through a detailed Face ID support document.
All Face ID data is stored on device, not on Apple's servers, Cook reiterated. "We don't have it intentionally because it's yours," he said. As he has done many times in the past, Cook also
highlighted Apple's focus on privacy
and said that if he had to re-do the legal controversy with the FBI over San Bernardino, he'd "make the same decision today."
On the topic of selling user data, Cook said that's not something Apple does.
It's something that we don't do because you are not our product. We take a very pro-privacy view. Apple doesn't know what the content of your messages are. We encrypt FaceTime end-to-end. We don't know what you're saying. And we think that's the way people would expect.
A final topic of discussion covered the evolution of the iPhone over the course of the last 10 years and whether it's reached where Steve Jobs had envisioned it would go.
"You know, we knew from the launch it was going to change the world. But frankly, it's gone far beyond what we would have dreamed," Cook said.
NBC Nightly News hasn't yet shared the full video of Cook's interview, but it should be available soon on the NBC website and will include his full commentary on a range of issues.
Note: Due to the political nature of the discussion regarding this topic, the discussion thread is located in our Politics, Religion, Social Issues forum. All forum members and site visitors are welcome to read and follow the thread, but posting is limited to forum members with at least 100 posts.