iPhone X Shipping Estimates Improve to 1 to 2 Weeks Across Europe and Asia
Shipping estimates for the iPhone X have improved across Europe and Asia today, with many regional online Apple stores now quoting delivery within the first eight days of December.
France, Belgium, Germany, Netherlands, Czech Republic, and the United Kingdom now all show shipping dates between December 1 and December 8, suggesting Apple's production ramp-up efforts are paying dividends well beyond U.S. shores.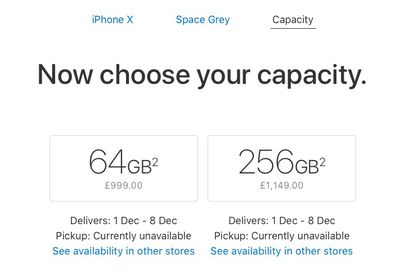 Slight variations in shipping dates can be found in other European countries such as Italy and Spain, which show estimates between December 1 and 11. Meanwhile, Denmark, Finland, Ireland, Norway, Poland, Portugal, Sweden, and Switzerland currently give a 1 to 2 week estimate.
Elsewhere, regional online stores in Asia, including China, Japan, and Singapore, quote delivery dates of between 1 and 2 weeks. The same also goes for New Zealand, while Australia now offers a more specific date range of between December 1 and 8.
U.S. shipping estimates for iPhone X improved on Wednesday to 1 to 2 weeks, but prior to today, estimates across Europe and Asia remained at 2 to 3 weeks.
Back in early November, Apple CEO Tim Cook said the company was working to ramp up iPhone X production week by week, with the aim of getting the new smartphone out to customers "as soon as possible."
Previously, rumors had suggested the device would be available in severely limited numbers until well into next year, but the balance between supply and demand already looks to be easing worldwide.