Apple Ranked as 'Clear Leader' in its Efforts to Source Conflict-Free Minerals From Supply Chain
Apple has been designated the "clear leader" in its methods of supporting a conflict-free minerals trade throughout its supply chain. The title was awarded to the company in a report published by the Enough Project, called the 2017 Conflict Minerals Company Rankings, in which Apple sits at the #1 spot. Rounding out the top 5 spots are Alphabet/Google at #2, HP at #3, Microsoft at #4, and Intel at #5.
The new Conflict Minerals Company Rankings look at 20 of the world's largest companies in two of the industries that the Enough Project says "consume the most" tin, tungsten, tantalum, and gold: consumer electronics and jewelry retail. These minerals are referred to as conflict minerals because they're most often related to being sourced within war-torn countries that mine the minerals with little to no respect for workers' rights.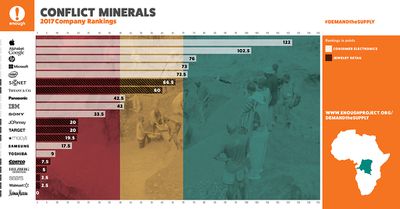 The Enough Project gathered these top 20 companies and awarded points to each based on the policies and practices that they enact regarding responsible mineral sourcing, with the lowest on the list designated as companies most in need of "considerable and urgent need for more action." In total, the companies were ranked based on four core categories:
- Conducting Conflict Minerals Sourcing Due Diligence and Reporting
- Developing a Conflict-Free Minerals Trade and Sourcing Conflict-Free Minerals from Congo, Particularly Gold
- Supporting and Improving Livelihoods for Artisanal Mining Communities in Eastern Congo
- Conflict-Free Minerals Advocacy
In its full report, Apple is placed in the "Outstanding Company Efforts" section, which represents the companies "going above and beyond to get more directly at the heart of maintaining robust due diligence practices and sourcing conflict-free minerals from Congo." Specifically, Apple is the only company to receive full credits for identifying and following up with supply chain incidents reported to it by suppliers and other sources. Apple has "clearly demonstrated its commitment" to scouring for red flags related to these reports and taking action by dropping suppliers and others in its supply chain that turn out to be noncompliant with its standards.
After developing its Risk Readiness Assessment program in order to help identify conflict minerals sourcing in its supply chain, among other risk-related sourcing factors, Apple partnered with the Responsible Business Alliance in order to make this program widely accessible to other companies. According to the Enough Project, this put Apple above and beyond all other companies ranked on the list.

Apple not only has found better ways of addressing incidents within its own supply chain, but it has also helped develop shared centralized platforms for risk assessment that other companies can use. This extra effort contributes to the overall strengthening of conflict minerals supply chain due diligence.
The Enough Project's report follow a separate study published by Amnesty International earlier this week, which described Apple as the industry leader in responsible cobalt sourcing. That report said Apple has taken "adequate" action in terms of sourcing conflict-free minerals, earning a top ranking alongside Samsung in the same category.
Apple annually discusses this part of the supply chain in its Supplier Responsibility Reports, which typically come out around February and March. This year's report highlighted cobalt supplier audits in the Congo, its "highest ever" work hour compliance, and discussed the success of Apple's Supplier Education Program. These reports are intended to show the strides that Apple takes to improve the work lives of its device manufacturing employees, who work to create products including the iPhone, iPad, Mac, and more.
To see more of the Enough Project's 2017 Conflict Minerals Company Rankings, visit the project's website here.
Note: Due to the political nature of the discussion regarding this topic, the discussion thread is located in our Politics, Religion, Social Issues forum. All forum members and site visitors are welcome to read and follow the thread, but posting is limited to forum members with at least 100 posts.