Apple today released its 2017 Supplier Responsibility Progress Report, outlining progress that the company has made in its supply chain by highlighting its "highest ever" work hour compliance, advocating the success of Apple's Supplier Education Program, and celebrating more than 2.4 million workers who were trained on their rights last year. Apple releases such progress reports each year as a transparent move to show the strides it takes to improve the work lives of its device manufacturing employees, who work to create products including the iPhone, iPad, Mac, and more.
The company said that over the past year it audited 705 total suppliers and discovered that compliance with its 60-hour maximum work week mandate has reached 98 percent, increasing from 97 percent last year. Throughout the year, Apple tripled the number of suppliers taking part in its Energy Efficiency program, leading to the reduction of over 150,000 metric tons of carbon emissions, "the equivalent of taking 31,000 cars off the road for a year."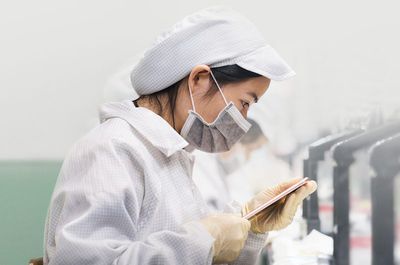 Apple also said that its successes in supplier responsibility included waste reduction, Clean Water initiatives, and more "responsible sourcing efforts" to expand beyond so-called "conflict minerals" to include cobalt for the first time.

Apple's responsible sourcing efforts expanded beyond conflict minerals to include cobalt for the first time. For the second year in a row, 100% of Apple's tin, tungsten, tantalum, and gold (3TG) smelters and refiners are participating in independent third-party audits. Apple has also partnered with numerous NGOs to drive positive change on the ground, including Pact who are working to provide essential health and safety training to artisanal mining, and are building programs to help children stay in school.
An article by BuzzFeed today highlights Apple's expansion beyond conflict minerals, which are referred to in that way due to their source within war-torn countries that mine the minerals -- tantalum, tungsten, tin, and gold -- with little to no respect for workers' rights. Apple's transparency on the subject comes at a time when the Trump administration is said to be considering suspending legislation that previously required companies to disclose whether or not their products contained conflict minerals.
According to Apple's senior director of supply chain social responsibility, Paula Pyers, the company removed three total suppliers (of the 705 audited) for failing to meet its various labor and human rights, environmental standards, and health and safety codes. Conflict mineral suppliers were more harshly cracked down upon, with 22 total suppliers tied to the controversial practice removed from Apple's supply chain over the past year.

"We've been really clear with our suppliers that, notwithstanding any changes to regulations — or deregulation, if you will — we'll continue to run the same program we've been running for the last six years," Pyers said. "We will continue to drive third-party audit programs. We'll continue to dig really deep, and stand up accountability and our incident report system. Candidly, we don't plan any change in that which we are doing."
The company's transparency in 2017 has stretched to include cobalt mining for the first time, including a list of every cobalt supplier in its supply chain, all of which are facing third-party audits. Cobalt is not officially considered a conflict mineral, but recent investigations into the cobalt supply chain potentially violating child labor laws has led to tech companies joining up to form the Responsible Cobalt Initiative to fight the human rights abuses.
Pyers told BuzzFeed that, even in the face of lax legislation potentially passed by the White House, Apple will "continue to do what we're doing" in regards to its annual Supplier Responsibility reports and audits. "We'll continue to call for collective action because we truly believe, whether it's regulated or self-regulated, this is the way business should be run, and the way we'll continue to run our business."
Read more about Apple's Supplier Responsibility initiatives here.
Note: Due to the political nature of the discussion regarding this topic, the discussion thread is located in our Politics, Religion, Social Issues forum. All forum members and site visitors are welcome to read and follow the thread, but posting is limited to forum members with at least 100 posts.