Apple Outlines New Ban on Bonded Labor at Supplier Factories in 2015 Progress Report
Apple on Wednesday released its 2015 Supplier Responsibility Progress Report [PDF] and updated its Supplier Responsibility website, giving new details on its efforts to improve the lives of the workers that assemble its products.
For its ninth annual progress report, Apple conducted 633 audits covering more than 1.6 million workers in 19 countries, and called an additional 30,000 workers to survey them on working conditions.
One of Apple's main achievements in 2014 was putting an end to bonded labor. In October, the company told all of its suppliers that as of 2015, no worker employed on an Apple line could be charged recruitment fees. Employees have, in the past, faced significant fees levied against them by third-party recruiters, who offer them a job at an Apple factory in exchange for money. In some cases, they lose their passports until they're able to pay the fee.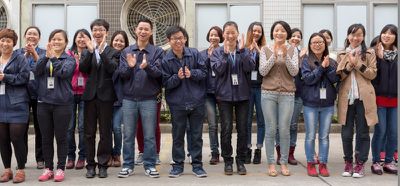 Apple previously prohibited excessive recruitment fees (defined as anything higher than a month's net wages) and required suppliers to reimburse any such fee, but the new ban goes further, preventing all bonded labor. Any supplier who uses bonded labor will need to repay all foreign contract workers in full going forward if they incur recruitment fees.
Apple also made progress eliminating conflict minerals (those that benefit armed groups associated with human rights violations) from its supply chain. As of 2014, 135 smelters have complied with the Conflict-Free Smelter Program, and another 64 are in the process of verification. Four smelters would not commit to the program, and will be removed from Apple's supply chain.
Apple achieved 92 percent compliance with its 60-hour maximum workweek mandate. On average, employees worked under 49 hours per week, and 94 percent of all workweeks included at least one day of rest every seven days.
There were 16 cases of underage labor uncovered at six facilities in 2014, and in all cases, suppliers were required to pay for the worker's safe return home, continue to pay wages, and pay for education at a school chosen by the worker.

A 16-year-old enrolled in Apple's Underage Labor Remediation Program, at school in Henan province, China.


Apple often finds itself in the spotlight over the conditions at the factories where its product components are produced, but the Cupertino company has for many years held its suppliers to a strict code of conduct that prevents underage labor and provides safe, comfortable working conditions for workers. Apple's Supplier Responsibility Team conducts supplier audits on a regular basis so that Apple can continue to work towards improving conditions at supplier factories.