iPhone 8 Production Said to Drop Significantly Given Popularity of iPhone 8 Plus and iPhone X
With fewer major selling points and given a consumer preference for the iPhone 8 Plus and iPhone X, Apple analyst Ming-Chi Kuo expects iPhone 8 production to see a 50-60 percent sequential decline this quarter.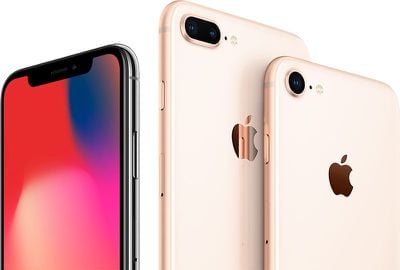 In his latest research note for KGI Securities, obtained by MacRumors, Kuo said the lower-than-expected iPhone 8 demand could result in fewer orders for Apple supplier Pegatron, which assembles the iPhone 8 in Taiwan.
Pegatron — iPhone 8 production to decline 50-60% QoQ in 1Q18F on lower-than-expected demand: With fewer major selling points and given a consumer preference for iPhone 8 Plus on a limited price gap, we expect iPhone 8 production orders to see 50-60% QoQ decline in 1Q18F, potentially shrinking Pegatron's utilization rate. But considering new iPhone orders may become more diverse (compared with a single model of iPhone 8 in 2H17), and assuming the new models will come with more compelling features than iPhone 8, we are positive on Pegatron's growth momentum in 2H18F.
Just this week, research firm Canalys said the iPhone 8 Plus outpaced the iPhone 8 last quarter with shipments of 6.3 million units versus 5.4 million units respectively. Canalys said the iPhone 8 Plus is the first Plus-sized iPhone to out-ship its smaller 4.7-inch sibling in a single quarter.
Apple doesn't disclose iPhone sales on a model-by-model basis, but chief executive Tim Cook said the iPhone 8 Plus has "gotten off to the fastest start of any Plus model," which came as "a bit of a surprise" to the company.
Kuo remains positive about iPhone X demand, and estimates production will rise 35-45 percent this quarter compared to last quarter, which should help to alleviate supply constraints heading into the holiday shopping season. The device still has a 3-4 week shipping delay online, with limited in-store availability.
Kuo said Apple's primary manufacturer Foxconn will convert its iPhone 8 Plus production lines into iPhone X lines in late 2017 to fulfill additional orders. Still, Apple is unlikely to achieve supply-demand balance until 2018.