iPhone X Should Push Apple Ahead of Samsung as World's Largest Smartphone Maker
Apple will dethrone Samsung as the world's largest smartphone maker in the fourth quarter of 2017, on the strength of strong iPhone X demand, according to Taiwanese market research firm TrendForce.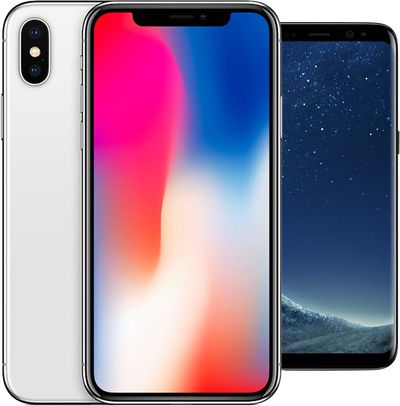 TrendForce estimates Apple will record 19.1 percent market share in the quarter, encompassing the busy holiday shopping season, which would be slightly ahead of Samsung's estimated 18.2 percent market share. Chinese vendors Huawei, OPPO, and Xiaomi are expected to round off the top five.


The feat would be impressive as always given that Samsung sells over a dozen different smartphone models, including some as cheap as $200, whereas Apple primarily caters to the high-end market beyond the iPhone SE for $349.
Samsung is expected to slightly scale back the production of its high-end models in the fourth quarter as the brand is seeing the sales of its smartphones being squeezed by the strong demand for Apple's latest iPhone devices. TrendForce estimates that Samsung's fourth-quarter total volume will come to 77 million units, a 5% drop from the third quarter.
The fourth quarter has always been the strongest for Apple, given it launches new devices in the fall, allowing it to surpass Samsung in the year-ago quarter as well. Samsung's Galaxy S8 and Galaxy S8+ were released back in April, so sales momentum is likely beginning to decline for those devices.
Meanwhile, market research firm Canalys estimates the iPhone 8 Plus outpaced the iPhone 8 last quarter with shipments of 6.3 million units and 5.4 million units respectively. Canalys said the iPhone 8 Plus is the first Plus-sized iPhone to out-ship its smaller 4.7-inch sibling in a single quarter.
Apple doesn't disclose iPhone sales on a model-by-model basis, but chief Tim Cook said the iPhone 8 Plus has "gotten off to the fastest start of any Plus model," which came as "a bit of a surprise" to the company.
As far as iPhone X sales are concerned, Apple's guidance of $84-$87 billion revenue for the holiday quarter suggests that demand for the device will be significant. Apple should easily beat its all-time record for revenue in a single quarter of $78.4 billion, achieved in the fourth quarter of 2016.