Apple Expands 'Everyone Can Code' Initiative to Students Around the World
Apple today announced that its "Everyone Can Code" initiative is being expanded to more than 20 colleges and universities outside of the United States. RMIT in Australia, Mercantec in Denmark, Hogeschool van Arnhem en Nijmegen in the Netherlands, Unitec Institute of Technology in New Zealand, and Plymouth University in the UK are some of the schools that will teach Apple coding classes.
All participating schools will offer Apple's App Development with Swift Curriculum, which is a full-year coding course designed by Apple engineers and educators. The course aims to teach students how to code and design apps for the App Store, and it is open to students of all levels and backgrounds.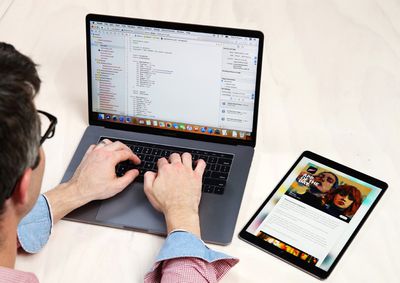 "We launched the Everyone Can Code initiative less than a year ago with the ambitious goal of offering instruction in coding to as many people as possible. Our program has been incredibly popular among US schools and colleges, and today marks an important step forward as we expand internationally," said Tim Cook, Apple's CEO. "We are proud to work with RMIT and many other schools around the world who share our vision of empowering students with tools that can help them change the world."
According to Apple, RMIT University in Australia will offer one of the broadest implementations of the App Development with Swift Curriculum, making the course available through both a vocational course taught on campus and RMIT Online. RMIT also plans to offer scholarships to school teachers who want to learn to code and a free summer school course at the RMIT City campus.
Apple introduced its App Development with Swift curriculum in early 2017, with the materials available as a free download from the iBooks Store. At the time the initiative was introduced, six community college systems serving 500,000 students across the United States agreed to offer the Apple-designed course. Later in the year, the course expanded to 30 more community college systems in the U.S. before becoming available internationally.
App Development with Swift is offered as part of the Everyone Can Code initiative. Under the program, Apple also offers coding curriculum to students in elementary school, middle school, and high school.