Qualcomm Accuses Apple of Helping Intel Using Qualcomm Software
Qualcomm on Wednesday filed yet another lawsuit against Apple, this time accusing the company of breaching software licensing terms and using Qualcomm code to help Intel, reports Bloomberg.
According to Qualcomm, Apple breached a contract that dictates the use of software that's designed to make Qualcomm chips work with other iPhone components. Qualcomm also believes Apple may have used its access to that software to help Intel with its own modem chip development.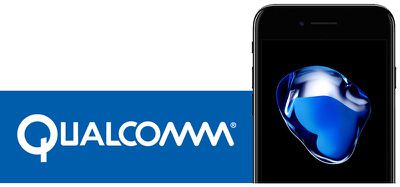 Since 2016, Apple has been using LTE chips from both Intel and Qualcomm in an effort to diversify its supply chain and move some production away from Qualcomm. The iPhone 7, 7 Plus, 8, and 8 Plus all use a mix of Qualcomm and Intel chips.
In light of the ongoing legal battle with Qualcomm, Apple is said to be considering eliminating Qualcomm chips from its devices all together, instead adopting chips from Intel and possibly MediaTek. Rumors suggest Qualcomm has been withholding software from Apple that Apple needs to test prototype devices for next year, forcing Apple's hand.
Qualcomm and Apple have been involved in an escalating legal fight since the beginning of the year after Apple sued Qualcomm for $1 billion. Apple has accused Qualcomm of charging unfair royalties for "technologies they have nothing to do with" and failing to pay for quarterly rebates.
Apple has since stopped paying royalties to Qualcomm until new licensing fees have been worked out, as have Apple suppliers, significantly impacting Qualcomm's profits.
Qualcomm has since levied several lawsuits against Apple, accusing the company of patent infringement and asking both the United States and China to block imports and exports of some iPhone models.