Apple's financial earnings results for the fourth fiscal quarter of 2017 were announced today, and on the subsequent call, Apple CEO Tim Cook said revenue from the company's wearables unit was up 75% during the quarter compared to Q4 2016.
Apple's wearables business for all of fiscal 2017 was the size of a Fortune 400 company. "Apple Watch is the best-selling and most loved smart watch in the world," Cook said during the call.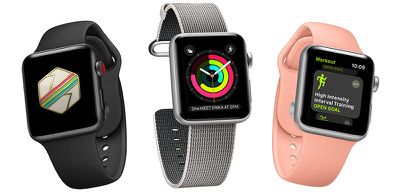 In 4Q 2017, the Apple Watch saw unit growth of 50 percent for the third consecutive quarter thanks to strong sales of the Apple Watch Series 3. "Customers love the freedom of Apple Watch Series 3 cellular," said Cook.
Apple does not break out Apple Watch sales, instead lumping the device into its "Other Products" category that includes Apple TV, Beats products, iPod touch, and Apple-branded and third-party accessories.
In 4Q 2017, the "Other Products" category brought in $3.23 billion, up from $2.37 billion in the year-ago quarter, a year-over-year revenue increase in 36%.