First iPhone X Orders Begin Shipping Out to Customers
The first iPhone X orders began shipping out to customers today ahead of a promised delivery date on Friday, November 3, the official launch date for the device.
Apple hasn't updated order statuses from "Preparing for Shipment" and won't do so until later this week when packages begin hitting their destination countries, but iPhone X models shipping via UPS in the United States are in transit and can be tracked using a UPS My Choice account or, in some cases, by reference number on the UPS website.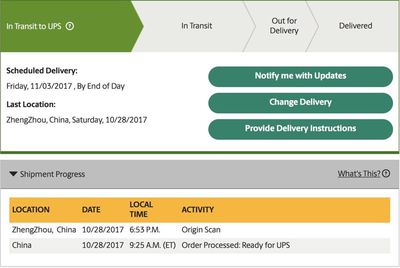 Tracking by reference often requires a phone number and a zip code, but sometimes the order number minus the last two digits also works. Many of our forum members are seeing their orders on the UPS website at this point, but not every order has been transitioned to UPS as of yet, so it may take another day or two for all orders to show up.
Pre-orders for the iPhone X kicked off on Friday, October 27 at 12:01 a.m. Pacific Time, and orders slated for November 3 delivery shifted to preparing for shipment later that same day and customers began seeing charges on their credit cards.
At this point, pre-order supplies of the iPhone X are sold out and have been since minutes after pre-orders went live. Current delivery estimates for iPhone X orders placed today are at 5 to 6 weeks, so many devices won't be arriving until late November and December. Apple is working to ship out iPhone X models as fast as possible, though, and some customers have already seen their delivery dates improve.
While it's no longer possible to pre-order an iPhone X for launch day delivery, Apple will have iPhone X models in stock at retail stores on November 3, so there's still a chance to get a device without a long wait. Customers hoping to get an iPhone X at a retail store should plan to line up early.