First iPhone X Orders Now 'Preparing for Shipment' in Europe With November 3 Launch Day Delivery [Update: US Too]
The first iPhone X pre-order customers have begun noting in the MacRumors forums that their orders recently moved to the "preparing for shipment/dispatch" stage. These users are located in Europe, and will be among the first to get the iPhone X in their hands, with deliveries promised to arrive on launch day next Friday, November 3. As of writing, no movement on order statuses has been made for customers in the United States.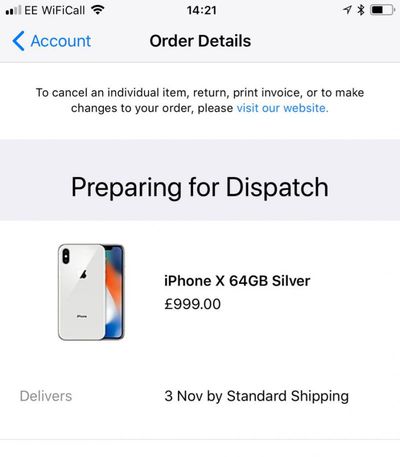 iPhone X
pre-orders began at 12:01 a.m. Pacific Time on October 27
, and shipping estimates began slipping into 2-3 week delivery windows in a matter of minutes. Now, new orders for most models of the iPhone X sit at a
5-6 week delivery estimate
. Apple has described demand for the iPhone X as "
off the charts
."
Orders that are now updated to "preparing for shipment" status should begin shipping out to customers over the next few days. Once November 3 grows closer, the first orders will arrive to customers in New Zealand and Australia, and soon after that unboxing and hands-on videos of the iPhone X will likely be shared online.
Even though some orders are already preparing to ship, Apple coordinates with its shipping partners to hold deliveries until the official launch day, although on occasion a few can slip through early. The "preparing for shipment" stage also means that orders can no longer be changed or canceled. You can visit our iPhone forums now to discuss your order status with other MacRumors readers.



If you received a shipping estimate beyond the November 3 launch date, there's a chance you could pick up an iPhone X in retail stores when the smartphone launches next Friday in more than 55 countries and territories worldwide. Of course, you'll have to arrive early to get a place in line, and supply is predicted to be constrained in many stores. If you plan on visiting an Apple retail location, most stores will open at 8:00 a.m. local time on November 3.
Update: Some iPhone X orders placed in the United States have also now shifted to preparing to ship with November 3 delivery dates.