iPhone X Pre-Orders Sell Out as Shipping Estimates Slip to 5-6 Weeks [Updated]
Pre-order supplies of the new iPhone X are now largely sold out, with the new iPhone models displaying shipping estimates well beyond the November 3 launch date. All models from all carriers at the moment list shipping estimates of five to six weeks in the United States, although some Sprint models can still be ordered for November 3 in-store pickup depending on the store. Other countries have similarly delayed shipping estimates.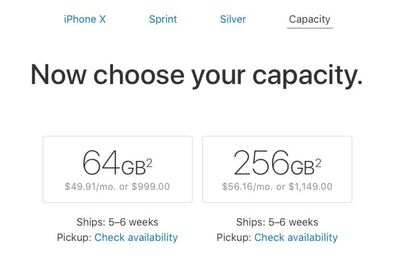 Ahead of iPhone X pre-orders, rumors suggested supplies would be heavily constrained due to ongoing production issues with everything from the TrueDepth camera module to the flexible printed circuit board for the device's antenna.
With pre-order supplies of the iPhone X exhausted, some customers could be waiting for months to get their hands on one of Apple's new devices. KGI Securities analyst Ming-Chi Kuo believes Apple will not reach supply/demand balance for the iPhone X until well into the new year.
Apple began accepting pre-orders for the iPhone X at 12:01 a.m. Pacific Time on Friday, October 27, and it took just minutes for shipping estimates to start slipping. Shipping times are likely to get longer over the course of the next few hours as pre-orders continue to trickle in.
Customers who are hoping to get an iPhone X on launch day but weren't able to get a pre-order in early enough can try their luck waiting in line for a new device on launch day, Friday November 3.
Customers who were able to place an early iPhone X pre-order will begin receiving their devices starting next week.