Apple Updating Some iPhone X Orders With Improved Delivery Dates
Some customers who pre-ordered the iPhone X when pre-orders went live and initially received shipping estimates of one to two weeks are seeing their orders upgraded to delivery on November 3.
MacRumors reader Colin ordered a 256GB iPhone X from T-Mobile and was originally provided with a delivery estimate of November 10 to November 17, which has now been updated to November 3.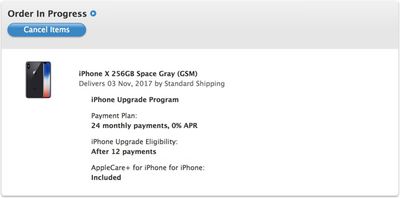 Colin's updated iPhone X delivery estimate


My own iPhone X order, placed right at 12:01 a.m., originally listed a delivery estimate of November 10 to November 17. It was just recently updated to a confirmed November 3 delivery date on Apple's site. Other customers who ordered early and saw the same delays may also get their shipments sooner than expected.

Colin's original iPhone X delivery estimate after pre-ordering


This is also good news for customers who have much longer wait times, as it suggests Apple is working rapidly to get orders out. Customers with two to three or four to five week delivery estimates may not have to wait quite that long if Apple can ramp up supply fast enough.
Right now, all iPhone X pre-orders are sold out and have been since about 15 minutes after pre-orders first went live. If you buy an iPhone X today, the delivery estimates are at 5 to 6 weeks.
Apple has confirmed it will have iPhone X stock in stores on launch day, so for customers who don't want to wait for weeks to get one of the new devices, lining up is an option. Supplies are limited, though, so it will be best to go as early as possible, likely even the night before.