Apple's Online Store Down Ahead of iPhone X Pre-Orders
Apple has taken its online storefront down in order to prepare for the launch of the iPhone X, which will take place at 12:01 a.m. Pacific Time or 3:01 a.m. Eastern Time on Friday, October 27 in the United States.
In other countries, pre-order times will vary based on local time zone. Pre-orders will kick off at 6:01 p.m. in Sydney, for example, 3:01 p.m. in China, and 8:01 a.m. in the UK. For details on when pre-orders go live in your country, make sure to check out our post that lists all of the pre-order times.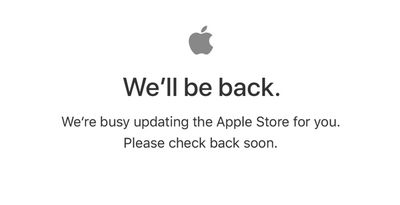 Apple will accept pre-orders through the Apple website and the Apple Store app. T-Mobile, AT&T, Sprint, and Verizon will all be accepting pre-orders for the iPhone X in the U.S., as will major retailers like Target and Best Buy. We've rounded up all of the third-party retailers offering pre-orders in the United States.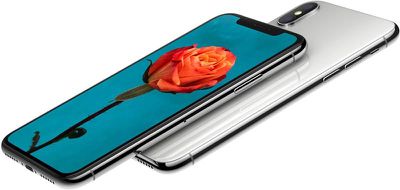 Pre-orders will be available from Apple in the following first wave launch countries starting on October 27: Andorra, Australia, Austria, Bahrain, Belgium, Bulgaria, Canada, China, Croatia, Cyprus, Czech Republic, Denmark, Estonia, Finland, France, Germany, Greece, Greenland, Guernsey, Hong Kong, Hungary, Iceland, India, Ireland, Isle of Man, Italy, Japan, Jersey, Kuwait, Latvia, Liechtenstein, Lithuania, Luxembourg, Malta, Mexico, Monaco, the Netherlands, New Zealand, Norway, Poland, Portugal, Puerto Rico, Qatar, Romania, Russia, Saudi Arabia, Singapore, Slovakia, Slovenia, Spain, Sweden, Switzerland, Taiwan, United Arab Emirates, the UK, the US and the US Virgin Islands.
Customers who are hoping to get an iPhone X on launch day should order as early as possible. iPhone X supplies are believed to be severely constrained, and available devices could sell out quickly, perhaps within a matter of minutes.
The iPhone X, which comes in Silver and Black, is available in 64 and 256GB capacities for $999 and $1,149, respectively. iPhone Upgrade Program customers will need to pay $49.91 a month for the 64GB model or $56.16 per month for the 256GB model.