Observer, a new cyberpunk horror game starring Rutger Hauer, was officially released on Mac on Tuesday. Developed by Bloober Team, creators of acclaimed psychedelic horror title Layers of Fear, and published by Aspyr Media, the game sees players take on the role of Dan Lazarski, an elite neural detective known as an Observer.
Lazarski works for a secretive police unit that hacks into and invades the minds of suspects, in a future where anything a person thinks, feels, or remembers can be used against them in a court of law.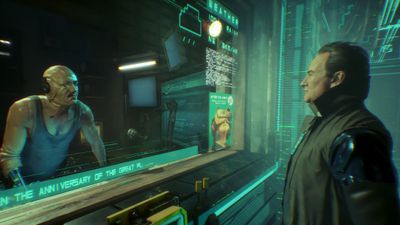 When you receive a mysterious message from your estranged son, a high-level engineer for the almighty Chiron Corporation, you journey to the seedy Class C slums of Krakow to investigate. But as you hack into the unstable minds of criminals and victims to look for clues, you are forced to relive their darkest fears. How far will you go to discover the truth?
Drugs, paranoia, VR, and neural implants abound in this heavily P. K. Dick-inspired horror dystopian title, which has received highly positive reviews from the gaming community on Steam, where Observer is available exclusively for the pre-Halloween price of $25.49 (normal price $30).
The system requirements for
Observer
are as follows: 10.12.6 (Sierra) and 10.13 (High Sierra); Intel Core i5 (4 cores) running at 3.3GHz, 8GB of RAM, 20GB of hard disk space, and an ATI R9 M290 or NVIDIA Geforce GT 680 video card with 2GB of VRAM. Note: Intel video cards are NOT SUPPORTED.