Apple COO Jeff Williams and Foxconn Chief Will Reportedly Meet Amid iPhone X Production Issues
Apple's operating chief Jeff Williams will reportedly meet Foxconn chairman Terry Gou later this month, following several reports about ongoing iPhone X production issues, according to Nikkei Asian Review.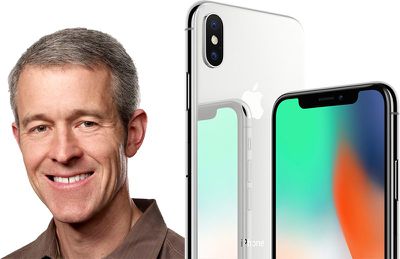 While the report did not say which topics Gou and Williams will discuss, it said the two executives will presumably look at ways to deal with the manufacturing bottleneck for Apple's new high-end smartphone.
Williams will be visiting Taiwan for the 30th anniversary of TSMC, the sole supplier of the A11 Bionic chip in the latest iPhone models, the report said. A ceremony marking the celebration is scheduled for Monday.
Apple's suppliers are still struggling to perfect manufacturing of the iPhone X's TrueDepth camera and 3D facial recognition system, according to the report. KGI Securities analyst Ming-Chi Kuo highlighted the issues last month.
Multiple reports have claimed it has taken more time to assemble the TrueDepth system's so-called "Romeo" module than the "Juliet" module.
The "Romeo" module reportedly includes the dot projector that beams more than 30,000 invisible dots to create a precise depth map of your face, while the "Juliet" module includes the infrared camera that analyzes the pattern. Together, they help power new iPhone X features such as Face ID and Animoji.
Foxconn is the sole assembler of the iPhone X, while its subsidiary Sharp and LG Innotek are reportedly responsible for assembling the 3D sensor modules.
Today's report cited an industry executive who said that while the yield rate has improved, it has not yet reached a satisfactory level. The executive believes it's unlikely the yield rate will reach a level that will enable Apple's suppliers to churn out the iPhone X at their full capacity by the end of October.
Jeff Pu, an analyst with Taipei-based Yuanta Investment Consulting, recently cut his forecast of the number of iPhone X devices that will be produced this year from 40 million units to 36 million. It was the second time he has revised down his estimate, which originally totaled 45 million earlier this year.
iPhone X pre-orders begin one week from today in the United States and more than 55 other countries. The device launches November 3.