WSJ Says iPhone X's Production Issues Due to Fewer 'Romeo' Than 'Juliet' Modules
The Wall Street Journal reports that iPhone X production issues were due to a supply imbalance of components dubbed Romeo and Juliet.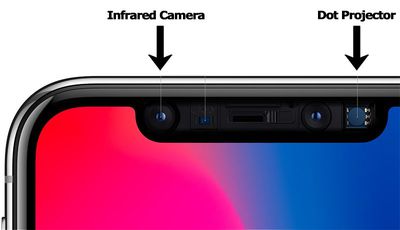 The report, citing people familiar with the situation, claims it has taken more time to assemble the Romeo module than the Juliet module, both part of the iPhone X's new TrueDepth facial recognition system for Face ID.
The so-called Romeo module reportedly includes the dot projector that beams more than 30,000 invisible dots to create a precise depth map of your face, while the Juliet module includes the infrared camera that analyzes the pattern.
Earlier this week, both KGI Securities analyst Ming-Chi Kuo and sources speaking with Nikkei Asian Review said the TrueDepth system has indeed been a significant bottleneck for Apple suppliers manufacturing the iPhone X.
One of The Wall Street Journal's sources said the assembly process is now moving smoothly, but the production issues add to concerns about extended shortages when iPhone X sales begin in early November.
iPhone X pre-orders begin October 27, and the device officially launches November 3.