Apple CEO Tim Cook: Mac Mini Will Be 'Important Part' of Future Product Lineup
Apple's Mac mini celebrated its third birthday this week, marking three years since the device was last updated. The lack of attention Apple has given to the Mac mini has left many Mac users wondering about the future of the machine and whether there are updates to come.
MacRumors reader Krar decided to email Apple CEO Tim Cook to get an update on the Mac mini and he received a response. Cook said it was "not time to share any details," but he confirmed that the Mac mini will be an important part of the company's product lineup in the future.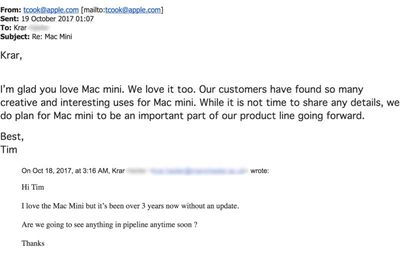 Cook's response echoes a similar statement from Apple marketing chief Phil Schiller, who commented on the Mac mini when Apple's plans for a new Mac Pro were unveiled. "The Mac mini is an important product in our lineup and we weren't bringing it up because it's more of a mix of consumer with some pro use," he said.
Positioned as a "bring your own peripherals" machine that comes without a mouse, keyboard, or display, the Mac mini is Apple's most affordable desktop machine. The current version is woefully outdated though, and continues to use Haswell processors and integrated Intel HD 5000/Intel Iris Graphics.



It's not clear when Apple will introduce a new Mac mini, and aside from a single rumor hinting at a new high-end Mac mini with a redesign that "won't be so mini anymore," we've heard no rumors about work on a possible Mac mini refresh.
With 2017 coming to a close, we're not likely to see a new Mac mini until 2018 at the earliest. A refreshed machine could use Kaby Lake Refresh chips, and as all chips appropriate for the Mac mini feature four cores, a new machine would likely reintroduce quad-core performance.