Apple Reportedly Joining Parisian Startup Incubator 'Station F' to Assist App Developers
As Tim Cook meets with French president Emmanuel Macron in Paris today, a new rumor is looking to the week ahead and what could potentially be announced by the Apple CEO as he continues his trip around France. According to information gained by Mac4Ever, Apple is set to announce its appearance at Station F, described as one of the largest centers for entrepreneurs in Europe and the largest startup facility in the world.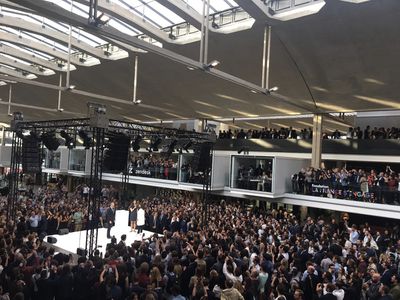 Emmanuel Macron appeared at the grand opening of Station F in June (via @joinstationf)
Apple will allegedly deploy a small team to Station F that will help developers create, validate, and manage applications to be launched on the iOS App Store. Given Cook's arrival in Paris today, if Apple does end up supporting Station F in some way it makes sense that the announcement could come out of the CEO's travels this week. Other companies with startup programs at Station F include Facebook, Microsoft, Ubisoft, and more.
According to our information, Apple would open - it is a first - an official cell in one of the largest centers of welcome for entrepreneurs in Europe. We do not yet know all the details, but the Apple would plan to deploy a small team, to help developers, especially in the creation and validation of applications.
Earlier this year, Apple opened its own iOS App Accelerator facility in Bangalore, built to support engineering talent and boost the growth of India's iOS developer community. Apple has eagerly supported and promoted the App Store and its developer community over the years, since it and other Apple services -- Apple Music, Apple Pay, AppleCare, iTunes, and iCloud -- continue to grow and contribute to much of the company's revenue.
In terms of Cook's current trip, he has visited an iPhone X component supplier, the Normandy American Cemetery, and a few app-based startups. More details of his meeting with Macron -- expected to cover international tax laws -- should begin to surface throughout the day.