Apple's Face ID Turns Android Makers Away From Under-Screen Fingerprint Recognition
With its iPhone X debut and the introduction of Face ID, Apple has now tilted interest in the mobile industry away from under-display fingerprint recognition, and instead towards camera-based 3D sensing technologies as the ideal user authentication solution. That's according to the latest research note from respected KGI securities analyst Ming-Chi Kuo.
According to the new note seen by MacRumors, inquiries by Android smartphone vendors into 3D-sensing technologies have at least tripled since Apple unveiled its TrueDepth camera and Face ID technology, which replaces traditional Touch ID fingerprint recognition in the iPhone X, set to launch in November.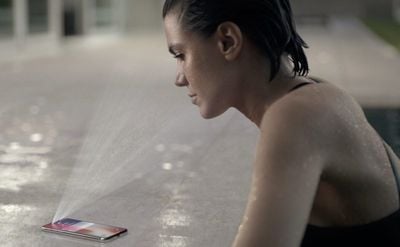 While under-display optical fingerprint recognition is only a spec upgrade from capacitive solutions, 3D sensing embodies a revolutionary user experience and warrants a premium on gross margin. 3D sensing not only enables facial recognition in security applications and allows users to create fun expressions like Apple's Animoji, on a more important level, it is a key factor in the development of AR. We therefore believe brand vendors are willing to spend more for related components.
Currently, the solutions available to Android phone vendors are said to be from Qualcomm and Himax, Orbbec, and Mantis Vision, with the more mature Qualcomm-Himax solutions attracting the most attention.
Kuo went on to say he believes the next two to three years will see shipments of 3D sensor-equipped Android devices to exceed those with under-display fingerprint recognition by a factor of two or three or more. This will be mainly due to 3D-sensing's wider compatibility with LCD screens than under-display optical fingerprint recognition, which is exclusive to OLED panels, said Kuo.
The KGI analyst also believes Samsung's continual dominance of the high-end OLED panel market over the next two to three years will mean shipments of under-display optical fingerprint recognition will remain significantly capped.
Regular MacRumors readers may recall that some reports claimed Apple struggled to implement under-display fingerprint recognition for its most advanced iPhone to date and instead opted for facial recognition as the exclusive authentication method as a result. In retrospect however, Kuo accurately contradicted that report shortly after it appeared, while well-connected Apple journalist John Gruber has also cast doubt on the assertion that Touch ID had been planned for iPhone X, claiming Apple had been "all-in" on replacing Touch ID with Face ID for over a year.
In an earlier report, Kuo said he believes it will take Apple's Android competitors up to two and a half years to replicate the functionality and user experience of the TrueDepth Camera in the iPhone X. He has also previously said that should Apple's TrueDepth camera prove to be popular with consumers, all of the company's future iPhones are likely to adopt the feature.
Face ID will become available to the public starting on November 3, the official launch date for the iPhone X.