T-Rex, Vampire, Crazy Face, Zombie, Giraffe, and Pie Among Emoji Included in New Unicode 10 Standard
The Unicode Consortium today released version 10.0.0 of the Unicode Standard, introducing 56 new emoji characters ranging from crazy face and face with monocle to t-rex, pie, and pretzel.
Emoji site Emojipedia has details on all of the new emoji that are included in the update, and has shared a sample image featuring visual representations of the new additions.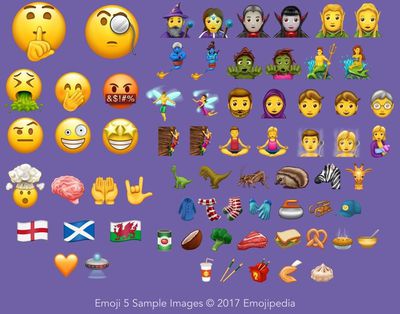 Some of the new emoji include star-struck, face with raised eyebrow (which Emojipedia says is also known as the "Colbert" face), exploding head, face vomiting, shushing face, face with hand over mouth, love you gesture, palms up together, brain, orange heart, scarf, gloves, coat, socks, zebra, giraffe, hedgehog, sauropod, cricket, coconut, broccoli, dumpling, fortune cookie, pie, cup with straw, and chopsticks.
New child, adult, and older adult emojis in a range of skin tones are included, as are options for person in steamy room, bearded person, mage, fairy, vampire, merperson, elf, genie, person climbing, person in lotus position, and more, with all of those emoji available in multiple skin tones and genders. While there are 56 distinct new emoji characters, gender/skin tone modifiers and flags bring that total to 239.
These new emoji will not be available for Apple products until Apple adds support for Unicode 10, and the actual artwork for each emoji on iOS and Mac devices will be up to Apple to provide.
It typically takes Apple several months to implement support for new emoji, so the Unicode 10 options could be implemented in the fall of 2017. Emoji in Unicode 9, which was released in June of 2016, were added to iOS in iOS 10.2 in October.