Apple Announces All-New Store Opening at Century City in Los Angeles Later This Year
Apple has announced it will be opening an all-new retail store at Westfield Century City in Los Angeles, California later this year.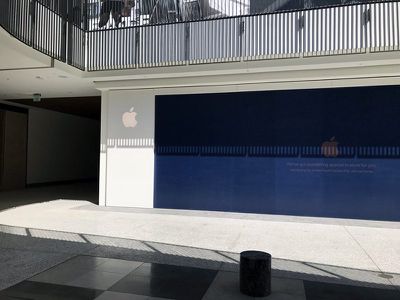 Apple's upcoming store at Century City
"We've got something special in store for you," says Apple. "Introducing the all-new Century City. Join us this fall."
Apple's plans to open a more spacious store at Century City were first revealed by MacRumors last month, as part of the company's ongoing efforts to modernize its chain of nearly 500 retail stores around the world.

Apple's upcoming store at Century City
Apple will be in a prime location at the center of the shopping mall, which is undergoing a $1 billion expansion and modernization. The new store will be opposite an upcoming Rolex watch store, according to a source familiar with the matter.
Apple's current store at Century City opened in June 2005 and has significantly less square footage. The larger store will provide the space needed to accommodate more products, increased customer traffic, and Today at Apple sessions.

Apple's current store at Westfield Century City
The new store should also be based on Apple's latest retail design, including large glass doors, sequoia wood tables and shelves, a large video screen for Today at Apple sessions, and light boxes spanning the length of the ceiling.
All new Apple retail stores opened since September 2015 have been based on the updated design, including Apple's flagship Union Square location in San Francisco. Apple has also renovated over 40 existing stores with the newer look.
Apple has yet to provide a more specific date for the store's grand opening, but it appears it will be at least a few weeks from now, based on the lack of intermediate Today at Apple sessions on the store's calendar through at least October 17.