Apple CEO Tim Cook 'Thrilled' With Launch Day Response to iPhone 8
As he often does on product launch days, Apple CEO Tim Cook this morning stopped by the Apple Store in Palo Alto, California as customers gathered to purchase an iPhone 8, Apple Watch Series 3, or 4K Apple TV.
Cook had a few minutes to speak with CNBC, and he said that he's "thrilled" with what he's seeing on launch day. Some stores have sold out of the iPhone 8 and 8 Plus he says, and many locations are out of the LTE Apple Watch Series 3 models.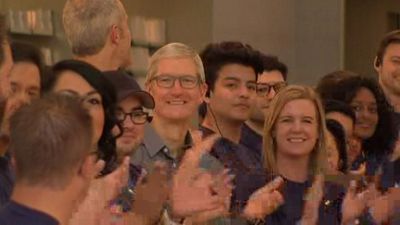 "Here's what we're seeing right now. The watch with LTE -- the Series 3 Watch -- we are sold out in so many places around the world. And we're working really hard to meet demand. We've sold out of iPhone 8 and 8 Plus in some stores, but we've got good supply there. You can see what's going on here this morning -- I couldn't be happier."
Cook spent time mingling with friends and joining in on the staff tradition of cheering and waving to customers purchasing a new iPhone. "We really like what we're seeing," Cook said.
Cook also commented on the LTE issues plaguing the new Apple Watch, which have caused some major publications not to recommend the device for purchase.
"The issue is very minor, it will be fixed in a software update," Cook told CNBC. "It has to do with the handoff between Wi-Fi and cellular, and we'll fix that. It only happens in a rare number of cases. I've been using it for quite a while and it works great. So we're very happy about it."
The bug surfaced when reviewers got their hands on the Apple Watch Series 3 and noticed that it often wouldn't connect to LTE. It turns out, the watch is mistakenly joining unauthenticated Wi-Fi networks with interstitial agreement pages that can't be bypassed. Apple has said the bug will be fixed in an update, but has not given a timeline for the fix.
Despite Cook's positivity, some reports from around the world have suggested demand for the iPhone 8 is low. Reuters reported a "bleak turnout" in Australia and later said there was a "muted launch" in Asia.
The iPhone 8 and iPhone 8 Plus are in stock and available for launch day purchase in many stores around the world.