Apple Watch Support in Apple's Upcoming AirPower Mat Limited to Series 3 Models
Apple is developing an "AirPower" wireless charging mat that's designed to charge an iPhone 8/8/Plus, an Apple Watch, and AirPods at the same time, and there's been some confusion about whether it will work with existing Apple Watch models or only the new Series 3 devices.
While some sites have suggested AirPower will work with all Apple Watch models, Apple's own documentation tells a different story. The Apple Watch comparison page lists "Supports AirPower mat" as a feature for the LTE and non-LTE Series 3 Apple Watches, but support is not included for the Series 1 device.


Because all Apple Watch models already feature inductive charging, it's logical to guess that they might all work with the AirPower, but it seems special hardware will be required, and that hardware is only available in new models. Apple Watch Series 1 and Series 2 owners will need to continue using their existing chargers once the AirPower launches.
A simple oval-shaped white charging mat, Apple is building new networking technology into the AirPower to allow it to charge multiple devices at once. Along with an iPhone 8, iPhone 8 Plus, or iPhone X and the Apple Watch Series 3, the AirPower can charge AirPods in a new wireless charging AirPods case that's set to be released sometime in the future.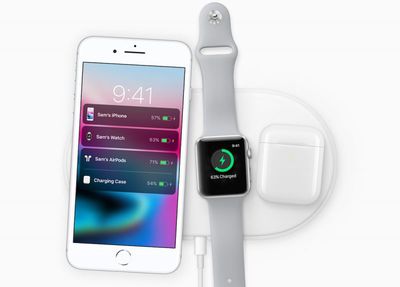 Because AirPower uses a new charging standard for supporting multiple devices, it won't be available for purchase until 2018. Pricing is not yet available.
With the iPhone 8, 8 Plus, and X, Apple has embraced the Qi wireless charging standard. Apple's newest iPhones will charge with any Qi-certified device, and after Apple releases the AirPower, the company plans to share the technology with the Qi community so other companies can make multi-device charging accessories.