4K HDR Content Rolling Out on iTunes Ahead of Apple TV 4K Launch
Ahead of next week's launch of the new Apple TV 4K with HDR support, Apple has begun releasing 4K HDR content on iTunes in the United States and other countries.
4K movies are denoted by a new "4K" and "Dolby Vision" tags visible in the iTunes Store and in the TV app on iOS devices, Macs, and the Apple TV. 4K content is not universally displaying across all devices just yet, but it should be rolling out fully soon.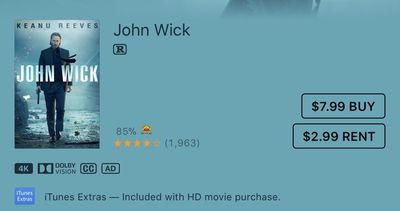 A limited number of 4K movies are available at the current time, but availability should expand before the new Apple TV launches next week.
Apple's 4K movies are available at the same price as HD movies, and for iTunes customers who have already purchased HD quality content, Apple is upgrading the HD content to 4K at no additional cost.


The Apple TV 4K will be available for pre-order starting tonight at 12:01 a.m. Pacific Time or 3:01 a.m. Eastern Time. Orders placed tonight will be delivered next week, on Friday, September 22, the official launch date of the device. Pricing on the 4K Apple TV starts at $179 for 32GB of storage.