Game developer thatgamecompany appeared on stage at the Apple Event yesterday with a title that will be launching exclusively on the iPhone, iPad, and Apple TV soon, called Sky. The game is described as a "social adventure" where players navigate a world in the clouds alongside their friends, and marks thatgamecompany's first game in five years, since 2012's Journey.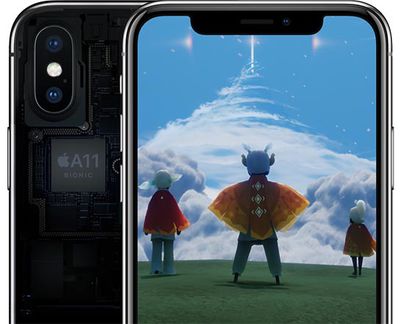 Journey was a game that automatically matched players with random other people online throughout the adventure, but it was impossible to join up with a specific friend. In its press release for the game, along with a new interview with president and creative director Jenova Chen, thatgamecompany explained that many fans wrote them after Journey and asked for "a game where they could play together" with friends and family members.
The idea of a wider audience playing the game on smartphones, not just video game consoles, led the developer to launch Sky mobile first and exclusively on Apple devices. This will make it easier to play the game with others, and thatgamecompany said it is "a game specially created to be played, and shared, among loved ones and family." During the keynote, the company confirmed that up to eight players from anywhere in the world can play together at a time.
We wanted as many people to love games, and so we were encouraged to explore this idea at thatgamecompany. Which brings our games, for the first time, to mobile – a platform that many have access to, the world over.

It's hard to explain the game, but a good place would be to say that Sky is a game specially created to be played, and shared, among loved ones and family. If you can imagine the delight of visiting a theme park where lasting memories are made, we envision Sky will sometimes feel like that.
In a six-minute interview with Geoff Keighley, thatgamecompany president and creative director Jenova Chen -- who was on stage during Apple's keynote -- said that it's "difficult" to summarize the entire game, but many of its mechanics surround "giving" to and helping out other players. Sky is set in a "whimsical" world above the clouds, where a great civilization once resided but is currently in ruins. Chen mentioned that the idea behind this world and the game as a whole was to build a theme park of sorts, where players can return daily and spend minutes or hours discovering new lands alone or with friends.
He also hinted at frequent updates and changes coming to the world, stating that it is "constantly evolving" and when players return there might be new places and sections of the world that open up that weren't there before. Because of the consistent additions and new discoveries happening in the game, Chen compared
Sky
to a television series that players can return to and experience new chapters in the story and game environment.
A specific release date and price point for Sky have still not been revealed by thatgamecompany, but Chen mentioned that it should arrive on tvOS and iOS "this winter." The company encourages those interested to stay up-to-date on development through a newsletter sign-up than can be found on the game's webpage.