Apple Offering Pre-Approvals to iPhone Upgrade Program Customers Ahead of iPhone 8
Apple has emailed customers enrolled in its iPhone Upgrade Program with instructions on how to get a head start on the iPhone 8 pre-order process.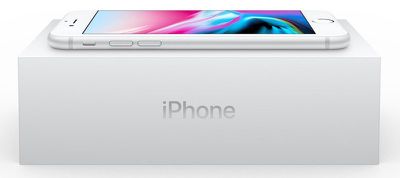 Apple advises customers to open the Apple Store app on their current iPhone, choose their preferred iPhone 8 or iPhone 8 Plus model, and get pre-approved for an iPhone Upgrade Program loan. The window to get pre-approved ends tomorrow, Thursday, September 14, at 4:00 p.m. Pacific Time.
Pre-approved customers can then return to the Apple Store app when iPhone 8 and iPhone 8 Plus pre-orders begin on Friday, September 15 at 12:01 a.m. Pacific Time to complete the process.
This year, it appears that iPhone Upgrade Program members will be able to use a Trade-in Kit with a prepaid shipping label to return their old iPhone to Apple, rather than being forced to visit an Apple Store to complete the upgrade process. The mail-in option should make this year's launch a less frustrating experience.
While the iPhone X is Apple's new flagship smartphone, iPhone 8 and iPhone 8 Plus shipping estimates could become lengthy soon after pre-orders begin, so getting pre-approved is highly recommended.
Apple's iPhone Upgrade Program lets customers upgrade to a new iPhone after they have made at least 12 payments towards their current iPhone and trade it in upon upgrading. The full cost of the iPhone and included AppleCare+ coverage is spread out over 24 months with zero percent interest.
Here's the monthly cost breakdown for the iPhone 8, iPhone 8 Plus, and iPhone X in the United States. The program is also available in the UK.


At this time, the pre-approval process doesn't appear to apply to the iPhone X, which can't be ordered until Friday, October 27.
(Thanks, Timothy!)