iPhone Upgrade Program Customers Able to Trade In Old Devices by Mail for iPhone X Launch
When customers who are members of the iPhone Upgrade Program go to trade in their devices this fall, they will likely be able to use a Trade-in Kit that's delivered by mail rather than being forced to visit an Apple Store to purchase a new device and trade in the old one.
Mail-in Trade-in Kits, highlighted this afternoon on the MacRumors forums, have been available as part of the iPhone Upgrade Program at least since July, and perhaps even earlier, but they were not an option during the iPhone 7 launch.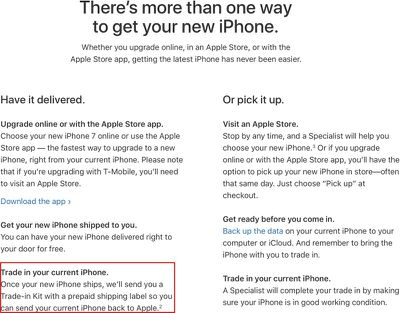 Based on wording on the iPhone Upgrade Program website, once a customer's new iPhone ships, Apple will send a Trade-in Kit with a prepaid shipping label to allow customers to send their current device back to Apple.
Last year, many iPhone Upgrade Program users were forced to reserve a new iPhone from a local Apple retail store due to in-store trade-in requirements, which left them with limited stock to choose from. Many customers were unhappy, perhaps prompting Apple to offer a mail-in exchange option.
With the new trade-in by mail option, iPhone Upgrade Program users may not be restricted to in-store stock this year, preventing many of the problems that surfaced last year.
Unfortunately, T-Mobile customers who are members of the iPhone Upgrade Program will still need to visit an Apple Store and will not be able to upgrade online.