Apple Releases iTunes 12.7 With Major Changes, Including No Built-In App Store
In a day filled with surprises, Apple has shocked us once again with the release of iTunes 12.7, which entirely revamps the iTunes App. The new iTunes is designed to focus solely on music, movies, TV shows, podcasts, and audiobooks, which means there is no built-in App Store.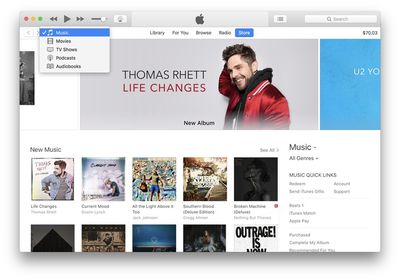 The App Store has been entirely eliminated in iTunes 12.7, as has the ringtones section of iTunes. Internet Radio is now part of Music, and iTunes U has been folded into Podcasts, as Apple announced in late August.


Apps can now only be downloaded on an iOS device using an iOS device, and the same goes for ringtones. In addition to the removal of the App Store, today's update adds support for syncing iOS 11 devices and includes support for new Apple Music features that allow you to follow friends and see what they're listening to.
The new iTunes focuses on music, movies, TV shows, and audiobooks. It adds support for syncing iOS 11 devices and includes new features for--

Apple Music. Now discover music with friends. Members can create profiles and follow each other to see music they are listening to and any playlists they've shared.

Podcasts. iTunes U collections are now part of the Apple Podcasts family. Search and explore free educational content produced by leading schools, universities, museums, and cultural institutions all in one place.

If you previously used iTunes to sync apps or ringtones on your iOS device, use the new App Store or Sounds Settings on iOS to redownload them without your Mac.
The new iTunes 12.7 update can be downloaded from the Mac App Store through the Software Update mechanism. The update is available for all iTunes users at no cost.